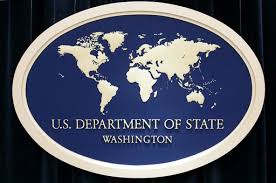 PODGORICA, 15.03.2019. – Independent media generally expressed a wide variety of political and social views, including through articles and programs critical of the authorities but they are faced with variety of problems such as selective and nontransparent public funding through the purchase of advertising with make undue influence on the  media market, states the Human Rights Report for 2018 that was published by the Department of State.  
In this document, especially in the section that is dealing with media freedoms in Montenegro, it is stated that television station and newspaper Vijesti continued to blame unfair media conditions, economic pressure from the government, and selective prosecution for its difficulties in making regular tax payments.
"On April 25, the Commercial Court rejected a 2014 lawsuit brought by Vijesti's parent company, Daily Press, against the pro government tabloid Pink M Television for allegedly discrediting Vijesti's reputation", states the Report.
U.S. Department of State reminds on the case of journalist of daily "Vijesti" – Olivera Lakic, who was shot and wounded by an unknown assailant in front of her home in Podgorica, as well as on the series of earlier attacks on Lakic.
"Independent and pro-opposition media complained about unfair treatment and economic pressure from government ministries and agencies", says the Report.
They also reminded on the dismissal of members of Council of the Radio and Television of Montenegro and the General Director Andrijana Kadija, emphasizing that: "Six representatives of the nine-member council voted for Kadija's dismissal. All six were affiliated with the ruling Democratic Party of Socialists (DPS)". The Report states also that, later on, the Council elected Bozidar Sundic as General Director "who also had strong DPS ties".
In addition, they recall that in December 2017, the Parliament dismissed NGO representative, Darko Ivanovic, from the Council of the Agency for Electronic Media (AEM), because of the alleged conflict of interest.
"Some media outlets continued to demonstrate a willingness to criticize the government. However, a lack of training and unprofessional journalistic behavior, combined with low salaries and political pressure, contributed at times to biased coverage", states the Report.
"The government did not restrict or disrupt access to the internet or censor online content, and there were no official reports that the government monitored private online communications without appropriate legal authority", says the report with the remark that MANS pointed out that they had such problem.
It is also written that estimated 71 percent of the population used the internet in 2017.