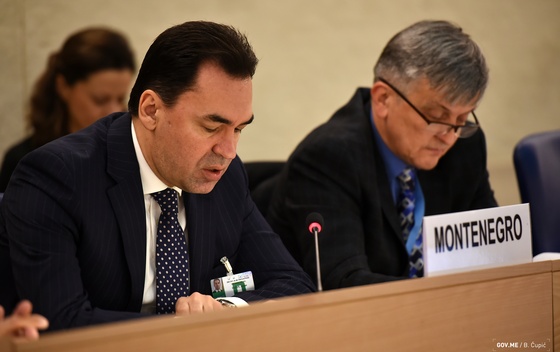 PODGORICA, 03.02.2018 – "Montenegro must take further measures to resolve the remaining 16 cases of attacks and threats against journalists, as well as to create an environment in which freedom of expression will be fully respected", states the National Report on the Status of Human Rights in Montenegro, presented at the end of January before the United Nations Human Rights Council in Geneva.
Montenegrin delegation in Geneva was led by the Minister of Justice Zoran Pažin, and after the presentation of the Report, Montenegro received about 180 recommendations from the UN member states for further affirmation of human rights and freedoms, which is, as stated by the Government, at the level of the average number of recommendations for this type of the report.
In the part of the report related to the freedom of expression, it is stated that out of these 16 cases, the Prosecution has not yet qualified eight.
"During the reporting period, there was a reduced number of cases of violence against journalists. There are no old cases of violence against journalists in courts, all of them are concluded through final judgment (12 final judgments were passed)", states the document. It is added that a database on investigations of the assaults on journalists and media property from all authorized state institutions, State Prosecution, Police Directorate and National Security Agency, is created. In order to protect journalists from threats and violence, a system of preventive and repressive measures was introduced, carried out by the Police Directorate which includes, everyday communication with prosecutors in charge. The report states also that the work of the new Commission for monitoring activities of the authorized bodies in the cases of investigation of threats and violence against journalists, murders of journalists and attacks on the media property, formed in 2016, was improved. It is added that Commission "adopts reports on individual cases of attacks on journalists" and that "every report contains analysis of the submitted documentation by the authorized institutions on these cases, as well as conclusions and recommendations".
The report also recommends strengthening the capacity of journalists' self-regulatory bodies in Montenegro. The report reminds that the dialogue on improving ethical standards in reporting, conducted with the support of OSCE, resulted in adoption of the revised Journalists Ethical Code in 2016. However the report states as well that "the area of media self-regulations is still fragmented, which does not contribute to its effectiveness. A single body which would monitor all the media in the country does not exist yet". There is Media Council for Self-regulation (MCS), as well as individual ombudsmen of Daily "Vijesti" and "Dan", and Weekly "Monitor". Since July 2017, MCS has started to solve complaints which exclusively concern its members, which made the situation in the media community much better and improved. Before that, MCS accepted complaints regarding "Dan", "Vijesti", and "Monitor", which resulted in mistrust and certain intolerance within the media community.