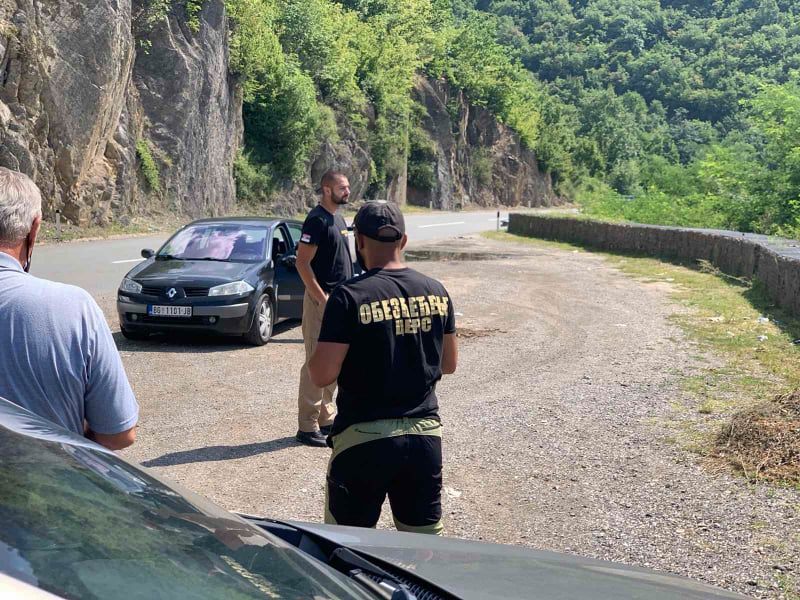 PRISTINA, 14.08.2020 – Association of Journalists of Kosovo (AJK), with concern has accepted the news of obstruction of the Radio Television of Kosovo by a group of people with the same uniform with the Serbian logo.
The team consisting of cameraman Mumin Jashari and two other members, Zymer Leci and Arben Jashari, although they had permission from KFOR to film in Zubin Potok, yesterday on 13th August, they were illegally prevented to film by these members, and then they were escorted to the police station.
"Yesterday we were filming on Ujman Lake. We had permission from KFOR and the Police to film with a drone. While we were filming, a car first came, checked our vehicle registration plate, inquired who we were, and left. Then, two cars with four people came. Two of them were in a uniform that wrote 'security', in the Serbian language. They took pictures all the time and asked us to stop filming. They did not let us move and pressured me to delete the photos I took of them. They kept us there until the police came to pick us up, which was a lot of pressure for the team. After 15 minutes, three Serbian police officers arrived, to whom I showed the filming permit and IDs. were escorted to the Police Station in Zubin Potok. All this detention lasted for about 2 hours until the Kosovo Police then released us. I have asked to call and inform the editorial office three times in a row, but I have not been allowed to do so. " – explained the cameraman Mumin Jashari for AJK.
AJK estimates that such actions against journalists and media professionals on duty put pressure on them. Detention and other forms of intimidation have recently increased and this threatens the safety of journalists, their independent reporting, and the general freedom of the media in Kosovo.
AJK has asked the relevant authorities to identify these persons who prevented the RTK team from filming in Zubin Potok and to take adequate measures about the case.