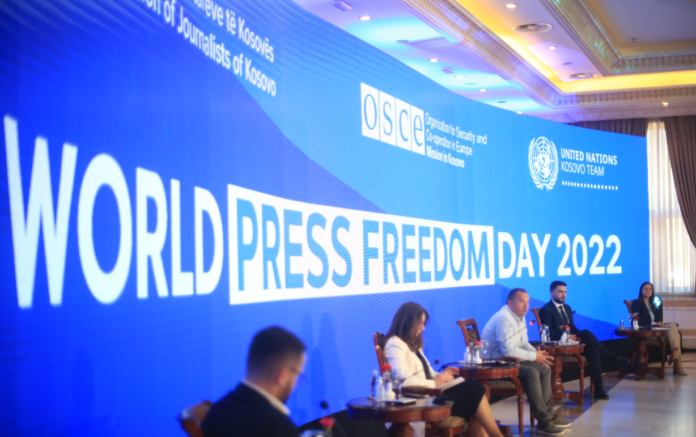 Association of Journalists of Kosovo – AJK, in cooperation and with the support given of the OSCE Mission in Kosovo, the United Nations Team in Kosovo, today organized a conference marking World Press Freedom Day.
Ambassador Michael Davenport – Head of the OSCE Mission in Kosovo, through a video message, said that although Kosovo continues to record high results in the region of media pluralism, cases of threats and attacks on journalists continue to be present.
"We still see many cases of threats or attacks against journalists, including 11 incidents since the beginning of 2022. But this day above all is an opportunity to celebrate the work of courageous media professionals around the world, as well as the role of free and independent media in consolidating democracy and promoting a more transparent and open society. The OSCE Mission will continue to support this great effort here in Kosovo."
The findings of the report "Kosovo Indicators on the level of Media Freedom and Journalists' Safety 2021", conducted by our researcher Getoarbë Mulliqi Bojaj, were presented at the first part of the conference.
The panel consisting of Yll Zekaj – Legal Expert, Abit Hoxha, National Expert, PCK's Director – Imer Mushkolaj and AJK's Executive Director Getoarbe Mulliqi Bojaj, discussed the reports findings, as well as its recommendations.
According to these findings, the situation of journalists continues to be serious, both of the pandemic and political changes, the number of attacks on journalists has increased, while the tendency to silence journalists through SLAPP (Strategic lawsuits against public participation) lawsuits is more prominent. While one of the recommendations of the report emphasized the need for journalists to report all cases of violation of their rights, the importance of RTK (Kosovo Public Broadcaster) financial independence, the independence of the selection of RTK and IMC (Independent Media Commission) boards, as and complete the KJC (Kosovo Judicial Council) Data Management System as soon as possible.
The denigrating language used against journalists and its impact on media trust, was discussed at the conference by the panel consisting of Doarsa Kica Xhelili – Chairwoman of the Committee on Public Administration, Local Government, Media and Regional Development of the Assembly of Kosovo; Leonard Kërquki – Director of the Gazeta Express, Rrezarta Delibashzade Krasniqi – Executive Director of NGO D4D and Granit Musliu – Member of the Independent Media Commission.
Currently at the conference is being discussed the safety and the freedom of journalists during reporting from conflict zones.