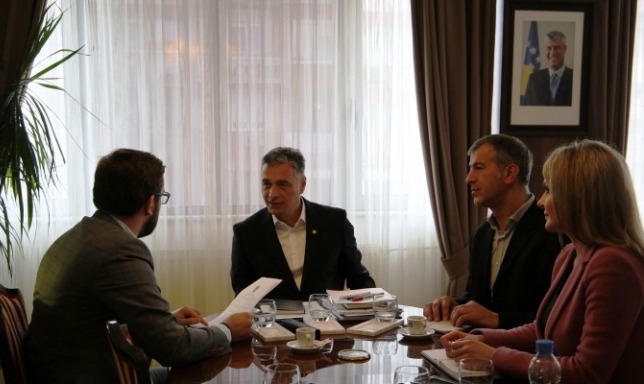 PRISTINA, 08.03.2017 – Shkelqim Hysenaj, the president of the Association of Journalists of Kosovo (AJK) and researcher Petrit Collaku met on Wednesday with Aleksander Lumezi, the Kosovo's State Prosecutor. The discussion was focused on biggest problems that journalists are challenged during their work, including lack of efficiency within justice system in general, as well as to increase the general environment of safety for journalists in Kosovo.
Shkelqim Hysenaj presented to State Prosecutor Lumezi the recommendations from the report that AJK has published December 2016, "The indicators of the level of media and journalists safety".  AJK recommended to prosecutors to deal more effectively related to threats or attacks against journalists.
During the meeting, AJK and State Prosecutor agreed that the Chief State Prosecutor will appoint a prosecutor from his office, as a coordinator to deal with cases of threats or other criminal act that are committed against journalists related to their work. The decision will also oblige other local prosecutor offices to deal with reported cases by journalists when at risk.
Also, Chief State Prosecutor Lumezi stated that the prosecutors will treat those cases with priority as well as to keep the coordinator informed for all actions taken.
According to this decision it is foreseen that the coordinator will run a special database related to those cases. Also, the Chief State Prosecutor shall be informed monthly for all actions undertaken in regard to cases of journalists and other media professionals. State Prosecutor's office will also include statistics related to media attacks in their annual report.
In the end, AJK has reminded that prosecution in Kosovo to react against total closure of trials for media and public in which the accused are of high profile.