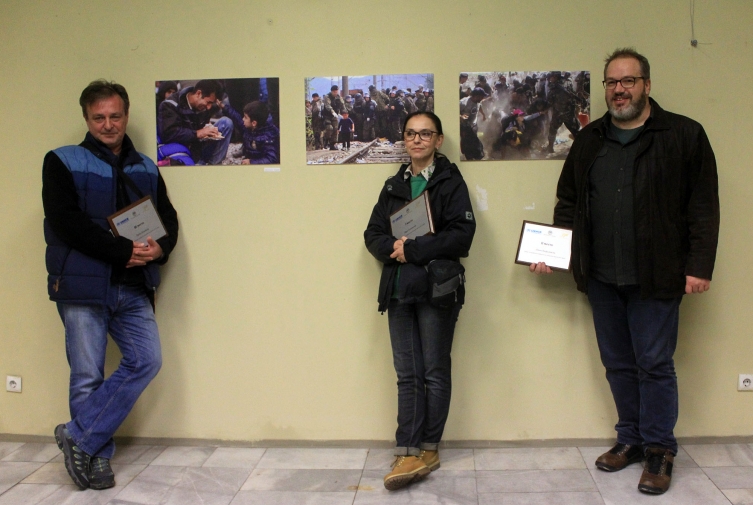 SKOPJE, 21.11.2016 The Association of Journalists of Macedonia in cooperation with the US Embassy in Skopje, UNHCR and the Macedonian Young Lawyers Association, on Friday held a ceremony at the Museum of Macedonia in Skopje and presented awards for best photography on the topic refugee wave in 2015 in Macedonia.
The first prize for best photography was given to Maja Zlatevska from the newspaper "Dnevnik", the second went to Ognen Teofilovski from "Vest" and the third to Gjorgji Licovski from the portal "Sakam da kazam".
The President of AJM Naser Selmani, in his welcoming speech congratulated the winners and thanked all those who participated in the contest. Selmani said that the refugee wave was a test of ethical reporting for Macedonian photographers, who from the first day followed the refugee crisis reporting for domestic and foreign media.
"Through their photos we comprehended the difficult fate of these desperate people. Migrants were presented in the true light, as victims of senseless wars. Before their photos no human being can not remain indifferent to the plight of the refugees, "said Selmani.
He added through giving awards to professional photographers we strengthen the unity of the journalistic community. "I want to call to remain united so that together we can easily deal with common challenges such as the escalation of attacks against journalists, photoreporters and cameramen" said Selmani.
Laura Brown, the person responsible for public relations at the American Embassy said that the safety of journalists is very important so that they can fulfill their mission. "We in the United States believe that the work of journalists is very important, especialy in times of crisis, as the refugee and political crisys in Macedonia," said Brown.
She praised the courage and professionalism of photographers because their work contributes to the transmission of the human dimension of the refugee crisis.
UNHCR Representative in Skopje, Tihomir Nikolovski said that by the images of photographers are the voice of refugees.
Nita Cavolli, a representative of the Macedonian Young Lawyers Association said that an image is the most piercing communication channel, because, through it the suffering of refugees is passed and it develops a sense of solidarity and compassion.
After the award ceremony, held at the Museum an exhibition was held where the the 50 best photographs of 20 photoreporters were presented who participated in the contest.
This activity of AJM is part of a project supported by the US Embassy dedicated to Macedonian photographers, within which a Manual for safety of photoreporters and professional ethics was printed.
Photo Source: SDK
AJM, November 20
2016, Skopj