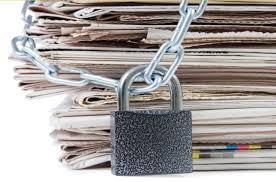 Sarajevo, 28.07.2017.-Nakon što je novinarka TVSA Liniji za pomoć novinarima prijavila pritisak na njen rad, BH Novinari su slučaj ocijenili kao cenzuru.
Po prijavi novinarke TVSA, Sunčice Šehić, da je direktor Elvir Resić vršio pritisak na nju da izbriše sa portala servisnu informaciju o nestanku vode u Sarajevu, Linija za pomoć novinarima zaključila je da se radi o cenzuri i onemogućavanju novinarki da slobodno i bez pritiska, u skladu sa pravilima novinarske etike, radi svoj posao.
"Ovo nije prvi slučaj, jer su i prethodne vlasti na jednak način vršile pritisak na novinarke i novinare. Bili smo uključeni u nekoliko slučajeva, a u jednom od njih je vođen i sudski spor. Dakle, i ta javna televizija, kao i mnoge druge u Bosni i Hercegovini, se nalaze pod užasnim političkim pritiscima stranaka koje su na vlasti", ističe Borka Rudić, ispred Udruženja "Bh. novinari".
Slučaj Sunčice Šehić je drugi ove vrste u posljednjih petnaestak dana koji je prijavljen Udruženju "Bh. novinari". Prethodno je njena koleginica Leila Kurbegović to isto učinila, a nakon što je protiv nje pokrenut postupak, jer je odbila da koriguje izvještaj. Obje novinarke su rekle za Radio Slobodna Evropa da ne mogu davati izjave bez odobrenja direktora, jer im tako stoji u ugovorima.
U izjavi za RSE direktor Televizije Sarajevo, Elvir Resić, koji je i predsjednik Kantonalnog operativnog izbornog štaba SDA, demantovao je sve.Iz Udruženja "Bh. novinari" poručuju da će u posljednja dva slučaja novinarkama Televizije Sarajevo, ali i svima drugima kojima je to potrebno, obezbijediti pravnu pomoć i advokata, a tražiće i pomoć ombudsmena, OSCE-a i svih međunarodnih organizacija.