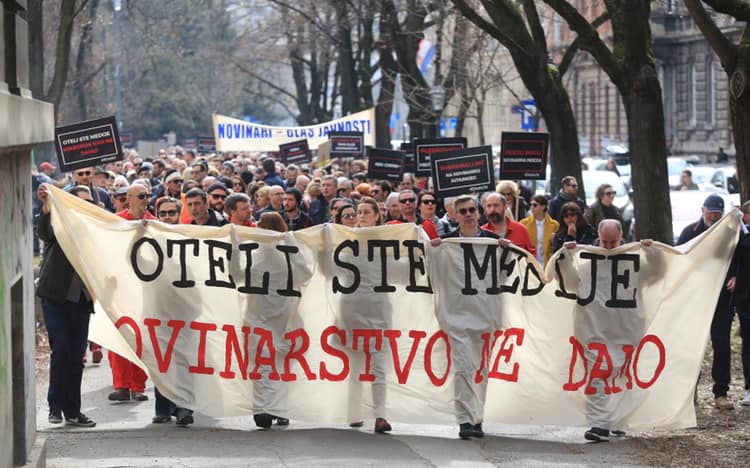 ZAGREB, 14.03.2019. – CJA firmly rejects statements of the Prime Minister Plenković who repeatedly denies pressures on critical journalism in Croatia by discrediting Hrvoje Zovko, CJA president, personally.
To bring down issues of deterioration and suppression of journalism CJA warned about at its protest on Saturday just to Hrvoje Zovko case and to misrepresent the facts of his resignation from editor's position at HRT is not worthy of the role of Prime Minister.
The Prime Minister forgets that no Zovko's physical attack on his editor has been established nor has "the problem" started by that, as he has stated. We want to remind the Prime Minister that Zovko is just one of 36 journalists and media the Croatian Radio Television (HRT) sued because they said or wrote critically about situation at this public broadcaster. HRT Management keeps reducing Zovko's written resignation, in which he warned about censorship and technical as well as staff devastation, to personal level. The Prime Minister's statements are following the same idea and are based on incorrect and one-sided information, given even before court decision. Therefore we find those statements to be not only irresponsible but even malicious.
Treating equally Zovko's suit due to outbursts he has been repeatedly exposed to in obscure right-wing media and well-grounded CJA warnings about hundreds of suits that intimidates and tramples serious critical journalism tells a lot about the Prime Minister's understanding the role of journalism as watchdog of social freedom and democracy.
It is of high concern when the Prime Minister of an EU member state disrespects journalist protest and its reasons, especially if he speaks in HRT Management voice that prosecutes journalists and their professional association and in voice of right-wing portals commentators.