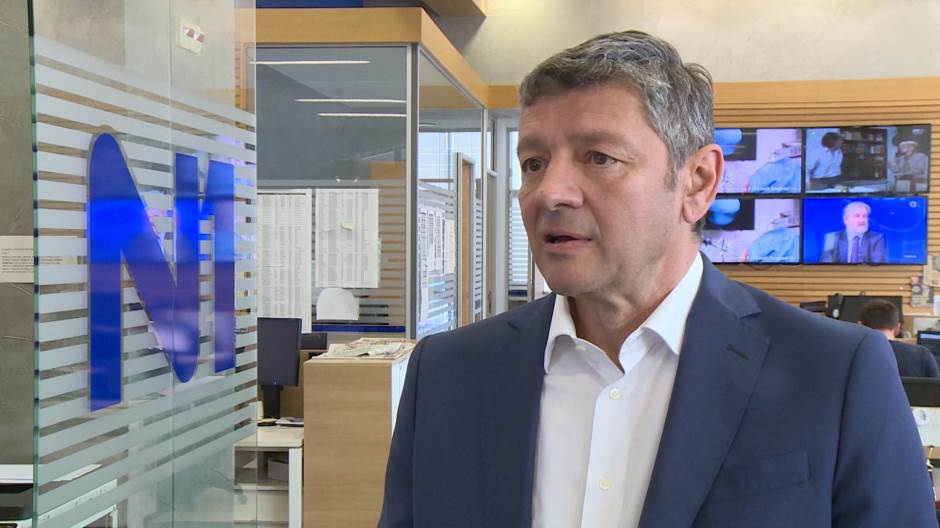 BELGRADE, 03.01.2020. – N1 Serbia News Director Jugoslav Cosis told the FoNet news agency that the Serbian authorities are trying to redefine the news channels editorial policies but added that the station "enjoys the full support of its investors".
Cosic rejected claims that N1 was conducting a political campaign and explained that the station was fighting for its program. He said that the station's interest and the public interest is for N1 to be seen across the country. "N1 TV has a fundamental interest in being seen as much as possible, especially in the group of cable operators controlled by the state because we are no available on them at present," he said.
He said that he "does not have the mandate to speak about business relations between his and other companies" but added that the Telekom Serbia offer to broadcast N1 free of charge on all cable networks for the duration of the negotiations between the two companies "seems temporary while N1's interest is to be seen permanently".
Reaching a serious agreement which will guarantee N1's presence is in the TV station's interest and that is the reason for the #DaSeVidiN1 #LetN1BeSeen campaign which calls for viewer support for access to all providers, Cosic said.
He did not want to enter into the "press release war" between the two companies, the content of offers nor the reasons why the negotiations were broken off, just saying that the United Group offer of 0.40 Euro to broadcast N1 is not a trick. According to Cosic, a public offer everywhere in the business world is considered valid just as the state often has public calls advertised in the media.
Cosic explained that the group of N1 investors – the European Bank for Reconstruction and Development, KKR, BC Partners and Blackstone – make distinctions between N1 and the other commercial channels in the United Group. He said that they believe that the visibility of the station is in the public interest which is the reason for the separate offer for N1 alone and added that there is no reason for Telekom not to respond to that offer.
He said that Telekom "never in its history had N1 in its cable offer, nor did it want to have it" and explained that N1 was available on cable operators, including Posta.Net, which were bought by Telekom. "Posta Net turned us off when the contract expired and showed no desire to extend the contract," Cosic recalled. He said that he feels that everything that has come from Telekom is not sincere and that he does not think that the state, which is the majority shareholder in Telekom, wants to solve the problem.
Cosic said he does not think that N1 journalists are colateral damage in "the cable war" nor that they have been left to fight in public for the business interests of the management which is invisible. "We would not be here if we didn't have the support of that management because a TV station like this without clear support for its editorial policies could not survive," Cosic said.
He said that "journalists do not fight for business interests, but for their TV station and their program" and added that the business interests of the United Group and professional interests are equal. There is a mutual interest and desire for N1 to be viewed as much as possible but the broadcasting of N1 "has to be paid for", Cosic said, adding that "even the SBB (cable provider) within the United Group pays N1 to broadcast in its network".
Asked what the management thinks is more important N1, as a news channel, or the sports and entertainment channels which are solely commercial, he said that "he assumes that they do make a difference" but that N1 has strong support for its editorial policies and has a very strong editorial team in Luxembourg which was recently reinforced with two professionals who came from the BBC and Sky News. The company is financially stable, pays salaries regularly to its journalists, Cosic said, adding that this is also a measure of the level of support for N1.
"What we are doing is truly a battle for N1, not for the company, however it might seem to anyone," Cosic said and recalled that from the very start the station "met with a hostile approach and has been working under extreme pressure for five years".
He said that he is convinced that "special warfare" is being waged against the station which includes flyers (which were thrown into the N1 grounds on several occassions), Twitter posts and tabloids as well as much more sophisticated methods than the clearly visible ones. "It's clear that we are in a hostile environment and become political opponents not the media in their eyes," Cosic said. He said that the Prime Minister (Ana Brnabic), who joined in the dispute between Telekom and the United Group, "is doing what the president (Aleksandar Vucic) thinks and wants". "In public he has withdrawn from the story but only in public, I think he is the key and that he is the man without whose tacit or express approval this kind of thing could not be happening," he said.
According to Cosic, the president and his team "are pulling the strings from one center". He said he has no dilemma that there is a group "of privileged media controlled by the state which are on the front line and others in the background with instructions about what to do". He said he believes that "there is a center which decides on a daily basis about the fates of individuals and who will be featured in the tabloids, regardless of truth and lies".
"Unfortunately, other state institutions are engaged in this. I am expressing an opinion, not making a claim, but I think that a lot of information is leaked, not just from the police and prosecutors but that part of that job is being done by the BIA (Security Information Agency). Once you see the wider picture, everything points to the BIA being engaged on Twitter," Cosic said.
Brnabic's Claims "Cynicism on an Epic Scale"
The Prime Minister's claims that N1 is behaving like a political party, conducting a political campaign and her accusations that is producing false news along with statements that she supports and is on N1's side are "cynicism on an epic scale", Cosic said. "If she is on N1's side, why does she not want to appear on N1," he asked, adding that this is how prime ministers show which station they support and which they don't.
"No prime minister in any democratic European country would voice accusations" like those expressed by Prime Minister Brnabic, he said.
Cosic said that N1 TV has managed to wake up some international organizations and institutions, including the European Commission and draw attention to what is happening, recalling the annual European Commission report which singled out pressure on the judiciary and the media as key problems.
He said that the attacks on N1 are "the tip of the iceberg, the culmination that has made everything more visible than before". He said that he does not believe the authorities "want to destroy N1 because that is impossible" but that he has the feeling that "this is an attempt to redefine its editorial policy, to soften N1 and push it off track". Cosic said that this is being done "in the dirtiest ways, in order to upset journalists, introduce anxiety in the context of their futures and the futures of their families".
"This is a whole series of activities from various sources with the aim of changing the editorial policy, that is to remove the key elements which define N1 as a critical media outlet," he said.
N1 Journalists Called Traitors
Cosic said that N1 journalists and editors are being called traitors and the station an anti-government media outlet, and drew attention to the abuse of public comments on Facebook, especially the case of tabloids claiming that N1 was the author of one of those comments which they claimed "called for the murder of the president".
He said that "no one has ever sued N1 over lies or bias" and added that N1 does make some inadvertent errors but is investing effort to limit room for those errors.
Cosic said that N1's investor is being "mistreated" despite the fact that the country's president bases his economic philosophy on foreign investments.
According to Cosic, in the five years since N1 was set up, there hasn't been a single meeting between its investors and the government "which did not discuss N1".
He said that "the prime minister's cabinet called our company vice-presidents to complain about N1 and exert influence on the program". Something like that is just not done, he said and added that the United Group does not interfere in the editorial policies of the station he heads.
Despite the fact that the authorities are boycotting an entire media spectrum, Cosic said he believes that "N1 and other media are to blame for that" and added that he has never stopped inviting representatives of the authorities to appear on N1 and added that he refuses to accept qualification that N1's program is one-sided because of their refusal to appear on the station.
Cosic said that N1 journalists are trying to gain insight into the activities of the government and state institutions by asking questions and news conference and in daily news shows.
Fonet, Belgrade, 03/02/2020.