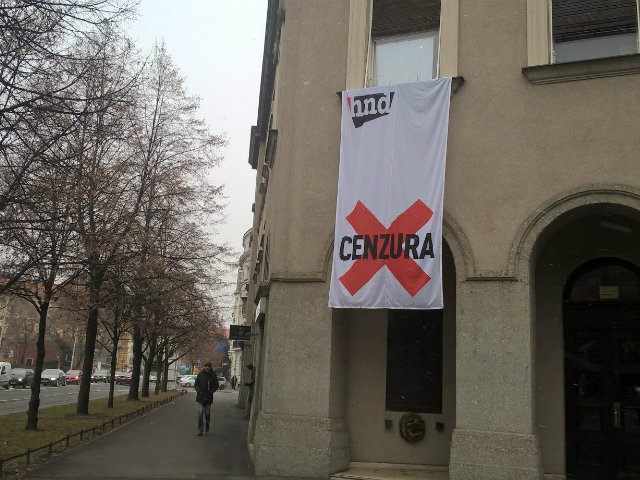 ZAGREB, 23.01.2019. – Lawmakers in Croatia will discuss on Wednesday a spate of lawsuits filed by the country's public broadcaster against journalists, media outlets and journalism associations, a practice critics say amounts to an attack on media freedom.
The cases brought by Croatian Radio-Television, HRT, will be on the agenda of parliament's Committee on Information, Computerisation and Media.
Independent opposition MP Bojan Glavasevic, who initiated the discussion, said it was unacceptable that one of Croatia's key cultural institutions should use taxpayer money to sue journalists, including its own employees, and other media bodies.
"It is clear that this is simply pressure, intimidation," he told BIRN. "And because of that we have to react politically."
Hrvoje Zovko, president of the Croatian Journalists' Association, HND/CJA, said there were roughly 1,000 trials ongoing of Croatian journalists or media outlets.
"Among them are at least 30 charges filed by the current administration of Croatian Radio Television against a dozen media and several of our colleagues, but also against HND itself and its representatives – the president of the HND branch at Croatian television, Sanja Mikleusevic Pavic, and me, as HND president," Zovko said.
"We consider all the lawsuits as a severe attack on the freedom of the media and as an attempt to intimidate journalists."
'Intolerable' for an EU state
"Censorship", the banner on Journalists' Building in Zagreb. Photo: Croatian Journalists' Association, HND/CJA
HRT sacked Zovko as a journalist and editor in September last year, citing a "series of insults, misconduct, extremely inappropriate and unprofessional statements".
Zovko, a 21-year veteran of the public broadcaster, had spoken out against the state of media freedom in Croatia and censorship at HRT.
HRT later sued the HND/CJA, Mikleusevic Pavic and Zovko over alleged damage to the "honour and reputation" of the broadcaster due to their public statements. HRT sought damages of 500,000 kunas, roughly 70,000 euros.
Zovko denied any wrongdoing and dismissed the complaint as "shameful".
HRT told BIRN it had no option but to seek legal redress "because they have untruthfully claimed that there is censorship within HRT, though they know that none exists."
On December 29, the European Union-backed Western Balkans Regional Platform for Advocating Media Freedom and Journalists' Safety, a network of journalist associations and media trade unions in the region, condemned the HRT action and called on it to withdraw "the filed lawsuits as soon as possible and to stop pressuring" the HND/CJA."
"Such behaviour is intolerable within an EU Member State," it said.
On January 9, Guy Verhofstadt, the Belgian leader of the Alliance of Liberals and Democrats for Europe in the European Parliament, tweeted: "The public broadcaster must withdraw the lawsuits and stop pressuring their employees and the Croatian Journalists Association".
Glavasevic told BIRN his first goal in Wednesday's discussion would be to force HRT to drop legal action and then start a dialogue on possible long-term solutions to the issue.