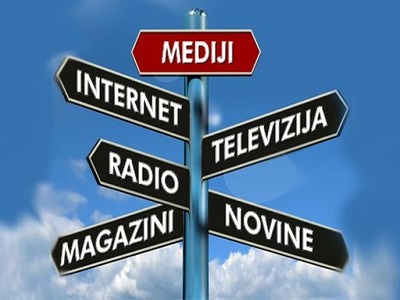 PODGORICA, 23.01.2016. – During the past year, in most of the media outlets in Montenegro employees continued to work in conditions that are below the level at which their profession should be.
Low salaries, late payments, unpaid overtime, unreported employment (moonlighting) and generally poor treatment by employers have resulted in declining professional standards and working conditions. All this is further devastating if one bears in mind that Montenegrin journalism is celebrating 145 years since the first media outlet appeared in Montenegro – on 23 January 1871 the first issue of the Crnogorac newspaper was published in Cetinje.
Although the media industry appeared in Montenegro long before many other industries, it is on the top of the list by number of lost jobs. According to the Monstat statistics agency, nearly 600 jobs were lost on various grounds in the media outlets during the previous three years. The figure accounts for one third of the total number of employees in this industry.
A constant war the media outlets are waging against each other is still the most characteristic feature for the Montenegrin media. In that war, those who are perceived as pro-government and those who call themselves independent media are making efforts to air dirty laundry of each other in public, ignoring the professional standards. Too much fuss about their conflicts and hatred blurs the difficult situation in many media outlets when it comes to treating employees, meeting professional standards, as well as independence of journalists themselves. Additionally, there is political and economic pressure from various public and other power centres against the media. Therefore it is clear that the future of Montenegrin journalism does not provide many reasons for optimism.
Although the situation in many of the national media outlets is bad, conditions in a number of local media are causing particular concern. In most of the municipalities which are founders of the local radio and TV broadcasters there is absolute lack of concern for the media outlets (and employees working there) they are responsible for. Thus, for example, as many as 15 salaries are owed to Radio Ulcinj employees, 12 salaries to Radio Berane employees, whereas whopping 52 salaries were owed to the colleagues from Radio Cetinje until recently.
Other municipalities, pressed by penury caused by various reasons, started saving from the local media. Thus, the budget of RTV Budva for the current year has been reduced by €200,000, in order to settle previously accumulated debts for taxes and social welfare contributions. Also, last year, the local government allocated only €50,000 for digitisation process implementation, which was insufficient. That very sum was taken from the 2015 budget of RTV Budva. Furthermore, instead of employing people who have been working in RTV Budva without contracts for years, 23 part-time associates were laid off on 15 January, although production of a large part of the programme depends on them.
The reorganisation in Radio Herceg Novi is ongoing and the media outlet is facing administrative issues arising from dereliction of duties by the founders, ie the Municipality of Herceg Novi. We hope that the issues will be successfully resolved and we look forward to seeing the announced changes in the programme, which is to be more dynamic and richer in content suitable for local radio. All this will mean more work and probably better contact with the public, as well as fulfilling the basic purpose of local broadcasters.
The state in the smaller private-owned media outlets in Podgorica, as well as in the rest of Montenegro, is not much better. The Trade Union of Media of Montenegro has received complaints from colleagues who were laid off from the media outlets which they, in fact, were not employed in, since they never signed labour contracts.
Also, the expansion of the web portals in recent years has brought greater media pluralism, but also a new obligation to the authorities, which they did not meet as they should have. No one in the country cares about the portals even when it comes to basic registration, so they are completely out of the system. It is not known how many of these portals and websites in general there are and, in particular, how many people work for them. Almost all of those employees are unregistered and according to our information, their fees usually do not exceed €150 and they are often late.
For all these reasons, the Trade Union of Media of Montenegro calls on the state and local governments to be more involved in solving accumulated problems in the media, media owners to respect their employees' labour rights and their autonomy, and the journalists and media workers to be a solidary group and fight for better position, which is a prerequisite for improving professional standards.
Main Board of the Trade Union of Media of Montenegro