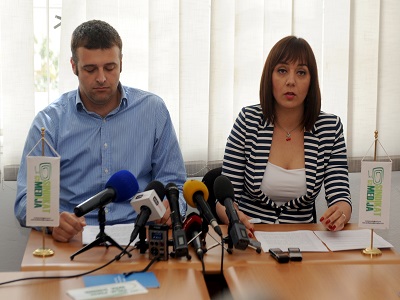 PODGORICA, 03.05.2016. -Employees in the Montenegrin media industry are denied basic employment rights on a daily basis and in terms of profession they are strategically reduced to "microphone holders". However, those who brought them into such a position dare to speak about media freedom.
World Press Freedom Day is opportunity to reiterate that we cannot talk about media freedom as long as those who make these media, ie their employees, work in the conditions of poverty, corruption and fear.
An employee who does not receive his/her salary and who cannot make a living by doing his job is not free and objective. While struggling for survival, a journalist cannot fight for the public's right to be informed. Media owners and financiers are to be blamed for this, regardless of whether the media are private-owned or financed by the state or a municipality. Unfortunately, all of them only run their own businesses and fight their own battles, with no respect for journalism that used to be a reputable profession. The employers are not lead by public interest either. By repeating that all employees are replaceable, they only deepen the fear and discourage rare individuals who would dare to speak out against poor working conditions. We have to make it clear that either there are no better employees than those who already work in the media industry or they are not willing to engage in this profession. We may be replaced but only with those who are worse than us.
According to the official data of the Monstat statistics agency, 1,970 people were employed in the media industry in 2012, whereas two years later there were only 1,382 of them. Where is the "difference" of 588 people? Who are they? Which media outlets reduced the employees number so significantly? One-third of total jobs were abolished silently, with only occasional labour disputes brought before courts. Those are the only clear indications that the media freedom does not really work in Montenegro.
Employers talk about media freedom and democracy, but the democracy they refer to is not applied in their media outlets. People leave journalism, which is no longer interesting or challenging in any way, because there is no satisfaction for working in the media. Sometimes, employees cannot get even their salaries or take a day off.
People are rightly concerned for their jobs because it is easy to lose one and hard to get it. Therefore, they agree to work overtime, for lower and lower salaries, to work on several positions at once and without days off for public holidays or vacation. Therefore, there are great, but disappointed journalists working in bookstores. The number of such examples will grow until those who manage the media outlets become aware that they caused many of the problems the media are facing with.
We must not agree to get less than we are guaranteed by the laws. We must not give away our rights. Therefore, on this day we ask colleagues to express their union and professional solidarity and commitment to protect ourselves.