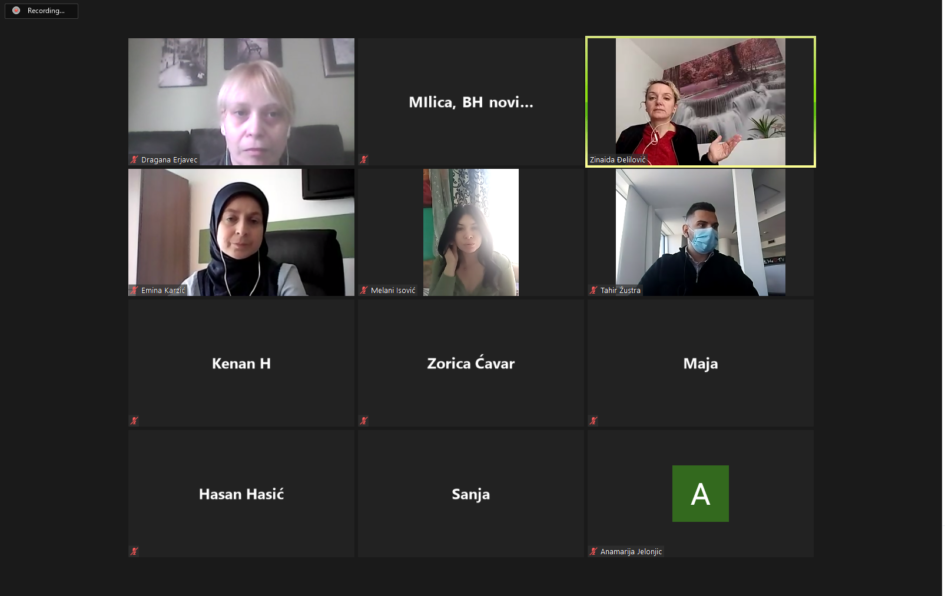 SARAJEVO, 02.03.2021. – Journalists who decide to be investigators, to reveal various scandals, corrupt practices, anomalies in society, often face various problems: their phones are tapped, their emails are hacked, threatened, or be physically assaulting with the aim of intimidating and silencing. The situation is especially bad in small communities, where media workers, on the one hand, do not have the capacity to resist pressure and attacks, and on the other hand are overburdened with daily obligations so they do not have enough time to critically examine everyday events.
This was highlighted during the workshop on investigative journalism, which was held today through the Zoom platform organized by the BH Journalists Association.
In order for a journalistic story to be investigative, it must fulfill several basic elements, says educator Dragana Erjavec. "The story must be socially important for a larger number of people, it must reveal facts that were not known until then and, in the end, it is always the author's work of journalists", Erjavec points out, adding that these stories are worked on for several months, especially in our country, where the documentation is waiting for a very long time from the competent institutions, which is why it seems to journalists that their story is not relevant.
"Time is not the enemy of a good research story and its publication! If you discover the great truth, the irregularity and malversation of the story becomes relevant the moment it is published. The audience is always interested in what is happening in its immediate vicinity, as well as in stories about celebrities because they attract more attention. Also, we should not forget that all of us, but also the public, are interested in stories about ordinary people with whom we can identify", said Erjavec.
Zinaida Đelilović, journalist of the magazine Žurnal, is of the opinion that working on investigative stories can sometimes be frustrating, because it can happen that after a few months of work it turns out that the story is not worth researching, that there is no basis for further continuation, or that the source gave false information. "Journalists are demoralized by the knowledge that good stories do not achieve the effect they wanted, because there is no reaction from the public or the competent institutions to all the evidence that contains good research stories. It can happen that even politicians and institutions do not send denials to such stories, guided by the motto: no one can do anything to us", points out Đelilović.
Investigative journalism in local communities exists under constant pressure from economic and political centers of power, and media workers find it difficult to decide to produce analytical and investigative content because they do not have the mechanisms to feel safe and protected. Most local media do not have the capacity for investigative journalism, given the fact that most of them are funded from public budgets, and on the other hand, journalists work in daily newsrooms, so they do not have time to devote to investigative topics.
Anamarija Zadro, a journalist from the Bjlesak.info portal from Mostar, believes that the local media do not have too much time or money for investigative stories. "It is very difficult in the sea of ​​daily events and social topics to separate one journalist who would deal exclusively with investigative journalism. We do research topics when time and money allow. But it is certainly important to develop investigative journalism in local communities, because it is easier for local media to notice a deformation in society, which trained, investigative journalists can prepare well", says Zadro, adding that it is difficult to obtain documents necessary to support stories given the different influences and connections of political and economic centers of power with public institutions that possess documents and information on a specific topic.
Melani Isović, a journalist from the eTrafika portal from Banja Luka, is of the opinion that more research texts are needed in all local communities, because there is a lot of material to work on stories about corruption, crime and other acts of politicians and their associates. "Unfortunately, journalists simply do not have the opportunity or resources to work on these stories due to the daily workload, concealment and failure to obtain the requested information from institutions, insufficient time for the story, lack of financial resources. It is possible and necessary to do research stories, texts in local communities, but we, as journalists, as well as our media houses, must be ready for possible inconveniences", Isović points out.
Emina Karzić, editor of the Independent Television IC IC Kakanj, says that local media journalists find it difficult to decide on investigative journalism. "In the local media, we are not in such a situation that we have been working on only one topic for several months, due to daily obligations. However, we do not have to have extensive research on a daily basis, it is enough to ask critical and different questions at a given moment than those that our interlocutors and local powerful people would like. From time to time, a story can be done that will bring to the surface what the public wants and what it is factually proven", believes Karzić, adding that in the end it gives respect to the journalist, but also to the media. With such stories, says Karzić, media workers in local communities show that they work in the interest of citizens, and those who think they are above the media and can control the media show that this is not the case.
The webinar participants agreed that for a good research story it is necessary to know the legal regulations on a particular topic, but also to support each statement from the text with documentation, which best protects the journalist and the newsroom from possible defamation lawsuits, and gives the story credibility. Investigative journalists, in the opinion of the participants, must be well informed, listen to what is happening in the community, ask questions in the right places, and be close to the source of information or know people who are close to those who have information.
A workshop on investigative journalism for journalists from local media was held within the project "Free Media for a Free Society" implemented by the BH Journalists Association in cooperation with the Association of Electronic Media in BiH with the support of the European Union