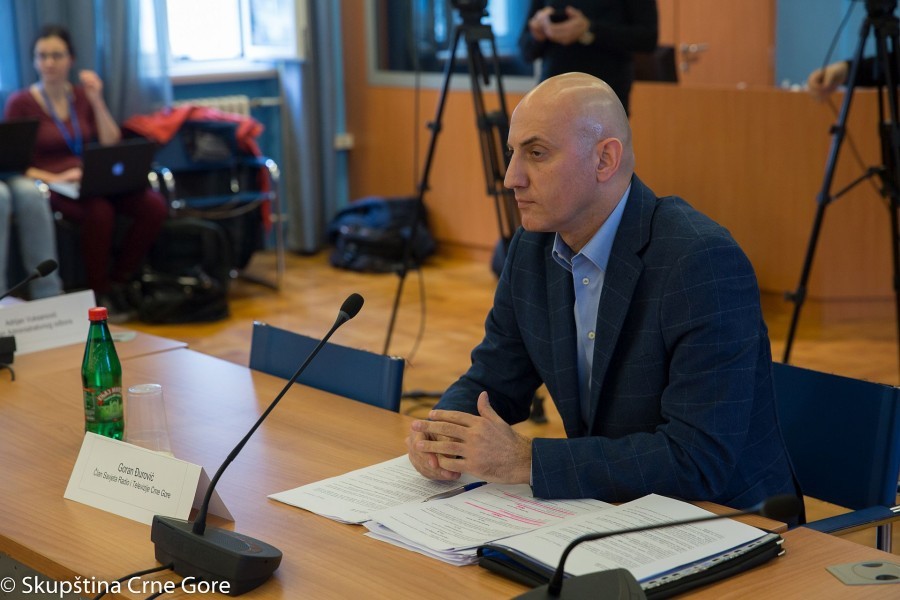 PODGORICA, 30.12.2017 – Two days before New Year, MPs of the ruling coalition voted in the Parliament in favour of dismissing Goran Đurović from the Council of Radio Television of Montenegro (RTCG).
The Parliamentary Administrative Committee proposed his dismissal, which was expressly confirmed by the MPs of the ruling parties, despite the fact that the Agency for Prevention of Corruption found that there was no formal reason for his dismissal, which is an alleged conflict of interest. According to the same scenario from the Council has been dismissed film director Nikola Vukčević.
In his statement made to the Administrative Committee, Đurović said that through illegal dismissals of RTCG Council members the Democratic Party of Socialists (DPS) is trying to re-create the political party television out of the public broadcaster.
This is supported by the fact that the ruling majority voted for Slobodan Pajović, DPS councilor in Bar, as the new member of RTCG Council. The law is clear – councilors and MPs cannot be members of RTCG Council. Pajović took into account this formality and he recently resigned from the local assembly.
Just before the dismissal of Đurović, several non-governmental organizations protested in front of the Parliament of Montenegro. The transformation of RTCG from the political party into the Public Service should not be stopped, as this would be the first step towards impeding the European integration and European future of Montenegro, was the message sent from the protest – "Independent Public Service – Period".
Due to events related to RTCG, Commissioner for European Neighbourhood Policy and Enlargement Negotiations Johannes Hahn, wrote to the Prime Minister Duško Marković. In his letter he noted that problems related to the Public Service are one of the key concerns of the EU, Daily Vijesti published.
Leaders of the so-called civilian opposition wrote to Hahn. In their letter they stated that DPS is brutally misusing the Parliament, dismissing from RTCG Council members which it does not control, and bringing instead of them it its own party soldiers.
In the latest EC working paper on the current situation in chapters 23 and 24, it is stated that "the leadership of RTCG and its management bodies must be protected from undue influence and political pressure."
And in practice, DPS, just before the presidential and a series of local elections, slowly but surely, puts public service under its control.