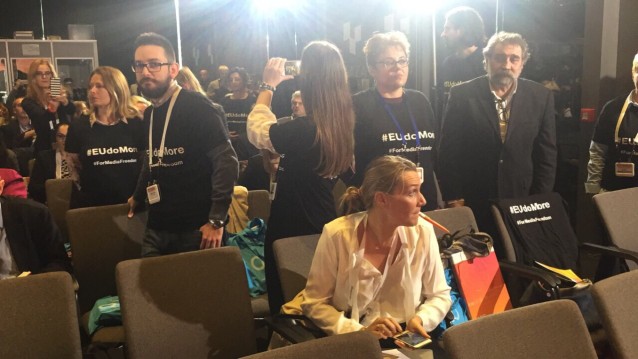 TIRANA, 09.11.2017. – Representatives of the informal Group for Media Freedom, which brings together journalists, media associations and civil society organizations in Serbia called on the European Union (EU) to support free, professional and responsible journalism in Serbia and not to ignore the desperate situation in journalism.
During a panel on the role of media in the process of European Integration organised within the Media Days of the Western Balkans, Branko Cecen,  Director of the Centre for Investigative Journalism of Serbia addressed the panellists on behalf of the Group for Media Freedom,  while other members stood in black T-shirts with the message "EU Do More".
As a sign of solidarity with the colleagues from Serbia, participants of the conference from the countries of the region joined the action, standing up wearing the same t-shirts.
The action of Group for Media Freedom and the Cecen's appeal to the EU was greeted by the applause of the participants of the event, which brought together 250 journalists, editors and representatives of journalists and media associations and civil society organizations in the Western Balkan