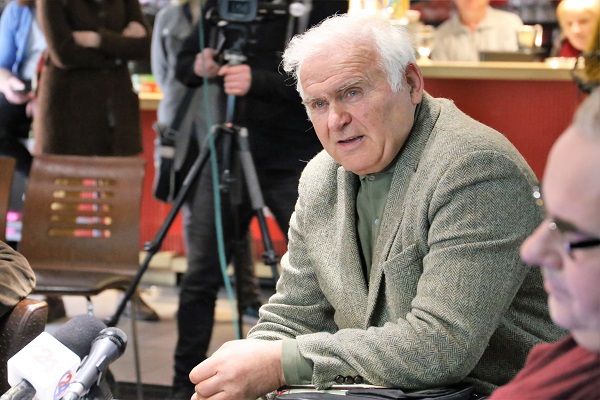 SKOPJE, 22.03.2018 – At the round table titled "Is there freedom in Macedonia?", journalist Ljubomir Gajdov stressed that it's the media that are the main expellers of crime and that they should not wait for someone else to offer them conditions for successful working. Media workers themselves, according to Gajdov, need to fight for their guaranteed rights and freedoms.
"We, ourselves, have to fight every day…What is happening to MRTV is terrifying. It is the only public television company in which the police are situated in. They didn't have this neither in Hitler's time, nor Pinochet, nor Stalin's time. At the end of my journalistic career in the television, Erwan Fouere was a guest and he said that he noticed that there was a police office downstairs. I said yes Ambassador, this is an ideal substrate of Branko Crvenkovski and his favorite Gordana Stosic, to situate the police in MRTV", stated Gajdov saying that democracy in a country depends on accountability and transparency, which in terms of the media points to the real situation of the media in Macedonia.
The presentation of the project "From understanding to defense", the findings and recommendations from the researches and conversations with people from the media sphere and civil society, as well as the surveys with citizens were all presented by the President of CIVIL – Center for Freedom, Xhabir Deralla at the round table "Is there freedom in Macedonia?".
Biljana Jordanovska
Camera: Dehran Muratov
Editing: Ermin Klimenta
---
This project is financed by the European Union through the small grants program "Protecting Media Freedom and Freedom of Expression in the Western Balkans", implemented by the Croatian Journalists Association, as part of the regional project "Western Balkan's Regional Platform for Advocating Media Freedom and Journalists' Safety", implemented through a partnership of six regional journalist associations – Independent Journalists' Association of Serbia, Association of Bosnia-Herzegovina Journalists, Croatian Journalists' Association, Association of Journalists of Kosovo, Association of Journalists of Macedonia and the Trade Union of Media of Montenegro.