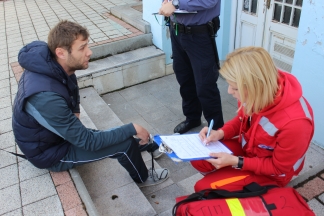 POŽEGA, 12.05.2017. – The Croatian Journalists' Association (CJA) condemns strongly today's brutal attack against Mladen Mirković, journalist of the local portal 034portal.hr. The attacker was Požega Mayor Vedran Neferović. CJA calls the police to urgently and thoroughly investigate all facts about that case.
Mladen Mirković, the journalist who has been attacked, is now at the Požega Hospital waiting for his medical test results.
He stated to the CJA that Mr. Neferović, Požega Mayor, had asked him to his office today, 11:00 hours, and sked him who had written certain article published at the portal the journalist worked.
"He immediately started to shout and to offend me, to threaten to kill me and everybody in the portal (034portal.hr). He pushed me against the wall and smacked my head against it. While he was pushing me out of the office he was kicking me", said Mirković. The Mayor went on kicking and pushing him towards the stairs. People in the hall saw it and some of the municipal employees asked the Mayor not to do it, media reported.
Attack against journalist in Požega just overlapped with the International Conference "protection of human rights and strengthening democracy in Europe" in Zagreb, participated by ombudsmen from more than 20 European countries and by other experts on human rights, including media freedom.
CJA informed the Conference participants, including Nilsa Muižnieks, the Council of Europe Commissioner for Human Rights. The Conference is organized under auspices of the Croatian Parliament.
Saša Leković, the CJA president
For the CJA Executive Committee