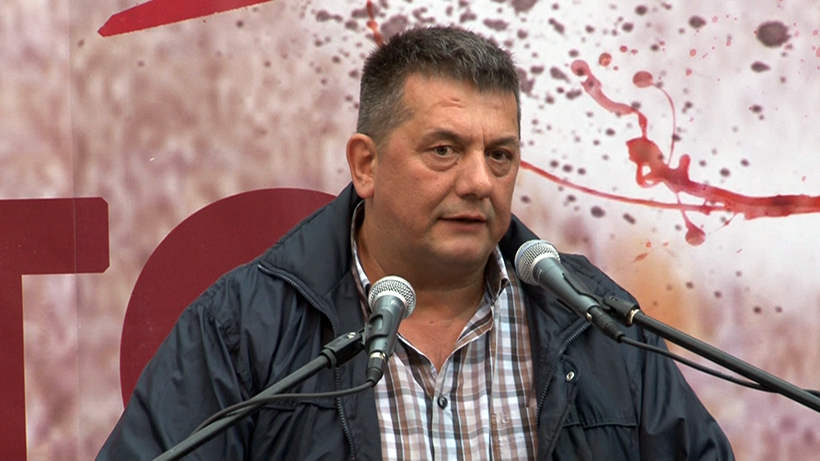 PODGORICA, September 22, 2017 – The trial on lawsuit of Gojko Raičević, editor of portal IN4S, against the Ministry of Internal Affairs, has been continued today with hearing of a witness – a journalist of Srpska TV, Goran Ćetković.
Raičević in his lawsuit against the Ministry of Interior requested compensation of 75,000 euros for non-pecuniary damage caused by torture of police officers on three occasions. He filed a lawsuit because he was brutally beaten several times during the protests of the opposition alliance Democratic Front in Podgorica, in the period of October 17 to 24, 2015. He claims that he was beaten all three times while he was performing his duties i.e. reporting on protests.
Ćetković said that on the night of October 24, 2015, while he was recording the event for Srpska TV, he met Raičević in Sloboda Street. Then, they met police forces, heading from the main square, approx. 50 meters from Hilton Hotel. According to his statement, police officers attacked all civilians, using their batons to beat them. Ćetković was kicked.
"We stopped at Beko. New police forces in vehicles arrived from the direction of the stadium. From one of the vehicles a person sitting next to a driver came out. He approached us wearing a protective mask. At that moment, I did not have any doubts that conflict would follow, "Ćetković pointed out. He added that Raičević was hit by a policeman in the knee with "boot top", after which he was hit in the face.
"The police officer went calmly back to his vehicle and went," Ćetković explained.
He added that Raičević after that was not even thinking about seeking medical help, although he limped. Their only goal was to get out safely.
Ćetkovic said that he was wearing a fluorescent yellow vest with the label "PRESS", as well as that he was holding in his hands a journalist ID card. Raičević as well, he said, was holding a journalist ID in his hands, but he did not wear a vest, because he could not find the appropriate size.
At today's trial, it was agreed that the medical expert should prepare a written statement which should be submitted to the court as soon as possible. The trial will be continued in October with examination of the event's footage.