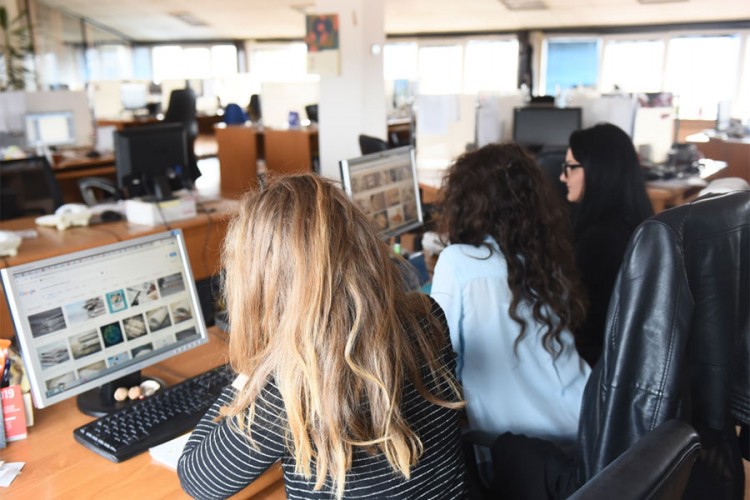 SARAJEVO, 09.04.2021. – More than 10 percent of female journalists in BiH have lost their jobs and incomes since the start of the COVID-19 pandemic. The majority of women journalists state that the scope of their work tasks has increased significantly – 33.3% of them state that their work obligations have increased to 50 percent, while 5.4 percent worked twice as much as in the period before the pandemic. Despite the increased scope of professional tasks, only 13 percent of female journalists were paid extra for their work, while for the rest of them, their salaries remained the same as before the pandemic.
It is a worrying fact that more than 77% of journalists state that the crisis situations caused by the pandemic have disrupted their mental stability and mental health, and 25% of them say that their physical health has been disrupted.
In the last five years, the Free Media Help Line, which operates within the BH Journalists Association, has recorded about 70 cases of human rights violations and pressure on female journalists in BiH. When it comes to pressures, most of them are sexually motivated violence, misogyny, discrimination, uncivilized methods and street language. Although they are generally less exposed to physical attacks than their male counterparts, the trend of increasing online threats and attacks on female journalists has been observed in the last two years. One of the bigger problems is that female journalists are not sufficiently educated about their rights, mechanisms for the protection of labor and social rights and ways in which they can protect themselves from gender discrimination.
Most women journalists state that although they formally work in the same conditions as men, their problem is often the harmonization of professional and private obligations, and this is especially pronounced during a pandemic.
"The pandemic only increased the pressure. Unfortunately, I have witnessed numerous situations, like most of us, that female journalists have been exposed to pressures, gender-based insults, name-calling and even violence," says one journalist.
Another female journalist points out that it is very difficult for a woman to organize work from home: "Private and business obligations are intertwined, so most find themselves in the position that the working day lasts from morning until late at night."
Representation of women in management positions in BiH media is still very low.
According to a survey of BH Journalists, men are in more than two thirds of directors and editors-in-chief positions (68.5%), while the share of women is below one third (31.5%).
The largest disparity in the representation of women and men in the main management positions is in the television sector, where as many as three quarters of directors and editors-in-chief are men. The share of women in the position of director in the media is 25.3 percent, and men 74.7 percent.
(Source: Indicators on the level of media freedom and safety of journalists in BiH 2020, BH Journalists)