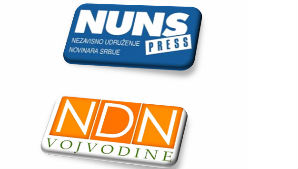 BELGRADE – NOVI SAD, 26.01.2017. – The Independent Journalists' Association of Serbia (IJAS) and the Independent Journalists' Association of Vojvodina (IJAV) strongly protest due to a very unfair attitude of the Prime Minister Aleksandar Vucic to the television N1. It is irresponsible and dangerous that the Prime Minister promotes offensive way of executive authority communication with the journalists and the media.
In the town of Indjija on Tuesday, responding to TV N1 journalist's question in connection with a photograph of the Minister of Health Zlatibor Loncar with the head of a criminal organization, the Prime Minister of Serbia publicly and without any argument made a series of insults to this media. Mr. Vucic has, once again, proved that he cannot understand or respect the role and importance of the public information and the journalistic profession.
IJAS and IJAV indicate that the state officials are specifically obliged to show a high degree of responsibility in communication with the media and, thus, contribute to the promotion of the culture of public dialogue.