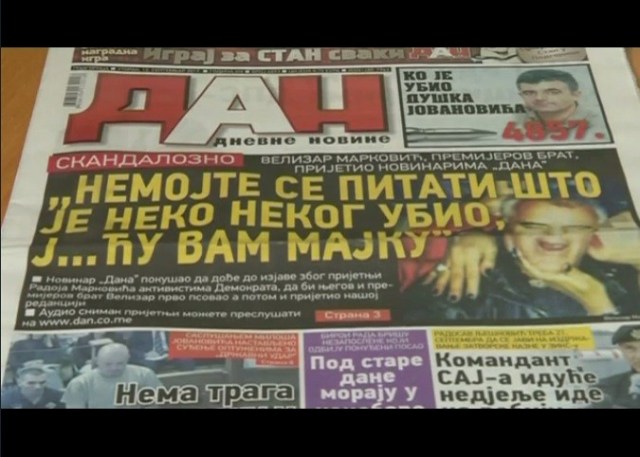 PODGORICA, 15/09/2017 – Trade Union of Media of Montenegro (TUMM) expresses its disappointment with the action of the Police and the Prosecution which seized a mobile phone from their colleague Vladimir Otašević, who was recently threatened by the brother of Prime Minister Duško Marković, Velizar Marković.
It is understandable that they needed a recording of a telephone conversation, but it is unclear why they decided to seize a phone that, besides that recording, has a number of private and business data, which are necessary for the journalists' work.
Thus, the Police and the Prosecutor's Office came into possession of all his e-mails and other accounts, documents he exchanged with interlocutors, private correspondence and photographs. We consider it as unnecessary breach of our colleague Otašević privacy and it in no way contributes to untaggling case caused by Marković.
The authenticity of the footage is not questioned neither by Velizar nor by the Prime Minister, Duško Marković which makes the action of the Police Directorate and the Prosecutor's Office even more surprising. Namely they want to examine the recording forensically. Thus, instead of helping Otašević, they exposed them to additional inconveniences.
We remind that brother of the Prime Minister Duško Marković, Velizar Marković made death threats to journalist of Daily Dan Otašević. Marković in a phone call, along with many primitive and vulgar curses, said to Otašević: "If you f**king continue to use for political purposes my back trying to understand things, then don't ask yourself why someone gets killed. Do you get it?"
We urge to representatives of the Police Directorate to reconsider their decision and to return the phone as soon as possible to our colleague Otašević who needs it for his work. We expect the Prosecution to inform the public as soon as possible about the outcome of the proceedings they are conducting.