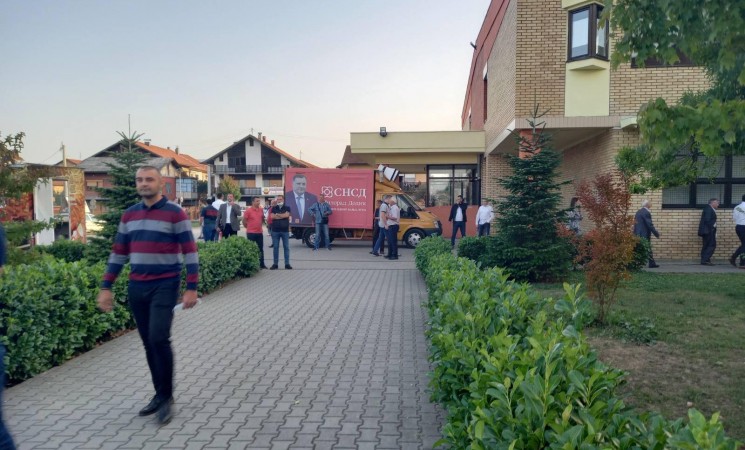 SARAJEVO / BANJA LUKA, September 27, 2021 – The Steering Committee of the BH Journalists Association and the Free Media Help Line (FMHL) strongly condemn the physical and verbal attack on the cameraman of the Insider.in portal, which took place last night in Banja Luka.
As the Insider.in reported, at a meeting of the SNSD party held in the Petrićevac area in Banja Luka, members of the security of the party's president and Serb member of the BiH Presidency Milorad Dodik physically prevented the cameraman of this portal from doing his job and forced him to delete all camera footage. Then the secretary of the City Board of SNSD Banja Luka, Milenko Letić, approached the cameraman, forced him to hand him his ID card and asked him where he lived, and took a photo of his ID card and returned it to him.
The Steering Committee of BH Journalists and the Free Media Help Line emphasize that such attacks on media professionals are the most serious violation of media freedom, characteristic exclusively of authoritarian regimes and absolutely inadmissible in a democratic society. Preventing journalists and other media workers from doing their job, deleting recorded material and legitimizing them by unauthorized persons is nothing but forcible censorship and intimidation of journalists, editors and cameramen, with the aim of creating politically "appropriate" media coverage.
Also, photographing an identity card and taking personal data is a criminal offense and a violation of the Law on Personal Data Protection, which stipulates that only authorized persons may collect and process personal data in accordance with applicable regulations.
The Steering Committee of BH Journalists demands from the SNSD representatives to investigate the responsibility of all the actors of this incident who were present at the party gathering, and to publicly condemn the attack on the cameraman of the Insider.in portal. Political officials, government officials in and party leaders in BiH must send a clear message that attacks on media workers are unacceptable and will not be tolerated, regardless of where they came from.
BH Journalists and the FMHL will inform the competent institutions about this case and request an urgent and detailed investigation from the Ministry of the Interior of Republika Srpska, so that the responsible persons can be sanctioned in accordance with the law.
Steering Committee of the BHJA – Free Media Help Line