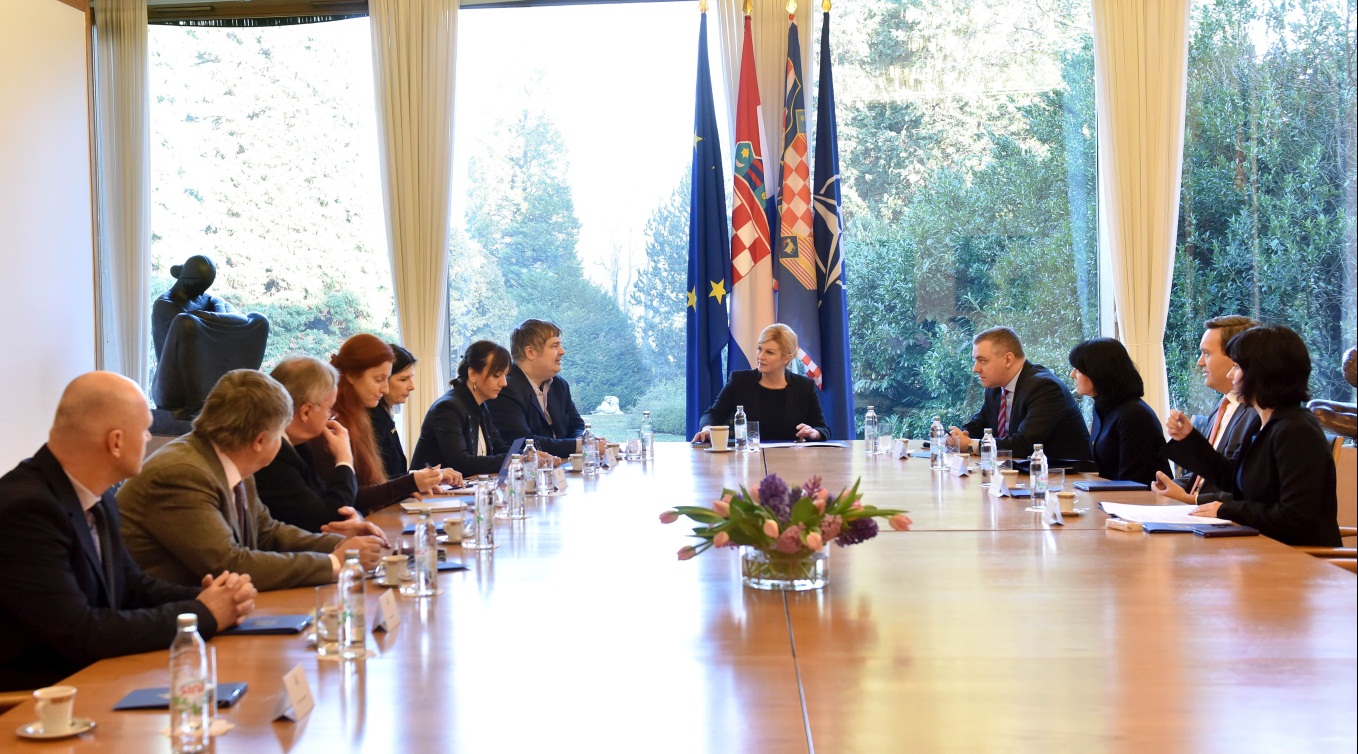 ZAGREB, 17.01.2017. – Mission of representatives of South East Europe Media Organization (SEEMO), European Federation of Journalists (EFJ) which was represented by Marijana Camović, President of Trade Union of Media of Montenegro, as well as Reporters without Borders (RSF), European Center for Media Freedom (ECPMF), European Broadcasting Union (EBU) and Association of European Journalists (AEJ) visited Croatia on January 15 and 16 due to a worrying situation in Croatian media.
After meetings with the President of the Republic of Croatia, Kolinda Grabar Kitarović, as well as the Minister of Culture Nina Obulin Koržinek, representatives of the Electronic Media Council, and representatives of the media and media experts, the mission members held a press conference pointing out that "it is not good that they come for the second time in the past two years."
"Some problems noticed in 2016 visit are no longer present, but new ones have emerged. After meeting with the Minister of Culture Nina Obulin Koržinek, I personally came out with a positive feeling. I think that journalists can expect support from her, "said Oliver Vujović, on behalf of the South East Europe Media Organization and a six-member delegation.
Vujović announced that a report on the situation in the Croatian media will be published in a few weeks. Unfortunately, the delegation only managed to talk to some journalists, members of Croatian Journalists Association at the Croatian Radio-television. No one from the leadership of the public media service could not receive the delegation at a previously agreed meeting. Representatives of Croatian Association of Journalists and Publicists also canceled the meeting, and representatives of the Croatian Radio Broadcasters did not appear at the meeting
Marijana Camović from EFJ emphasized that journalists' working conditions are not improving.
"Trade unionists are discriminated and dismissed, collective agreements exist only in some media, and none of them has been collectively negotiated. Journalists are forced or forbidden to write about some topics, there are no trade union organizations in numerous private media, " said Camović.
According to Pauline Ades-Mevel, from the Reporter Without Borders, the fact that Croatia has dropped for 11 places in Media Freedom Index just for a year period, is disturbing.  Hate speech as one of the biggest problems was highlighted as well by Sophie Albers Ben Chamo, ECPMF. She noted that it can quickly "grow" into threats and then physical attacks.
This is the second visit of the mission to Croatia in less than two years, and after the first visit in 2016, the report "Croatia: Media Freedom in Turbulent Times" was published.
The purpose of the mission, as explained at the conference, is not to criticize or provoke but to warn about practices that are dangerous to credibility and consequently the success of the media.