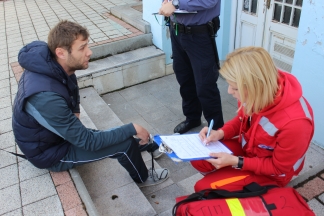 Photo: Portal 034
POZEGA, 19.05.2017. – The Western Balkan's Regional Platform for Advocating Media Freedom and Journalists' Safety, representing more than 7800 members, strongly condemns the unprecedented brutal physical assault and death threats made against Mladen Mirković, journalist of the Croatian portal 034portal.hr, by the Mayor of Požega, Vedran Neferović.
On May 18, the Platform sent letters of concern to all relevant Croatian authorities requesting of them to prevent any form of violence against journalists, to urgently and thoroughly investigate all facts about this and other cases of violations. By doing so they will send a strong message to Croation public that that such behavior is not acceptable and that state officials are not an exemption. The Platform also reported the incident to database safejournalist.net and Platform for the Protection of Journalism and Safety of Journalists.
Attacking journalists is a direct attack on freedom of expression and the right of citizens to be informed. Such behavior is not acceptable and state officials are not an exemption. In Croatia, there were 12 cases of jorunalists under attack reported in the last year.
The Regional Platform strongly supports the Croatian Journalists Association and its efforts to protect journalists and freedom of speech. The Platform also calls on international organizations dealing with the protection of press freedom and the rights of journalists to induce relevant Croatian authorities to investigate the recent and other cases.
Any attack on journalists is an attack on the public interest, democracy and the rights of all citizens.
BH Journalists Association
Trade Union of Media of Montenegro
Croatian Journalists' Association
Association of Journalists of Kosovo
Independent Journalists Association Serbia
Association of Journalists of Macedonia
Sarajevo – Podgorica – Zagreb – Pristina – Belgrade – Skopje