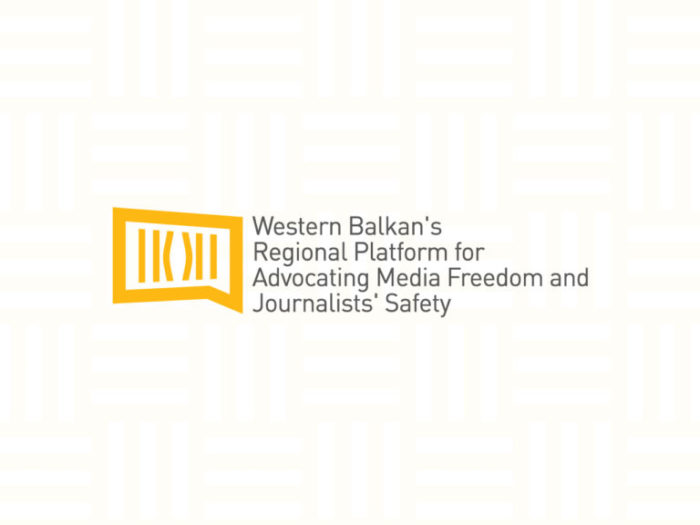 The Western Balkan's Regional Platform for Advocating Media Freedom and Journalists' Safety, which represents more than 8,000 members, strongly condemns the physical attack on TV N1 crew and verbal attack on correspondent of Federalna TV Dejan Kozul and calls on the competent authorities to urgently investigate the case and take the necessary measures to identify the perpetrators.
Near the stadium "Rajko Mitic", ahead of the football game between Red Star – Young Boys, the N1 television crew tried to find out what was the fans' attitude about setting up a tank near the stadium of Red Star. While recording their first interviewee, from the crowd they heard some abusive names like "spies", "thieves", "American mercenaries"… After the cameraman and journalist tried to avoid the incident and decided to move to the other side of the street, a group of young men continued to follow them. "I found the interviewees, I didn't see them coming from behind, and when I asked a question, one of the guys grabbed the camera lens, tried to grab and break the microphone and when he failed, he ripped the sponge off the microphone and throw it on the floor", said N1 journalist Mladen Savatovic.
On the same day, also near the "Rajko Mitic" Stadium, Federalna TV correspondent Dejan Kozul tried to make a television report near the setup tank. At the first moment, one man approached him following by group of young man, and asked him what he was doing there. After the journalist replied to them that he was making a TV report for the Federalna TV from Sarajevo, they asked him if he is a Serb. According to Kozul, this verbal attack could have overgrown into a physical attack, but because of his collage cameraman, it didn't happen.
"This football game was marked by multiple obstructions of journalists' work, culminating in a violent outcome. The denial of accreditation to the daily newspaper Danas by the Red Star Club Management, then intimidation of our colleague Kozul and finally the physical assault on the TV N1 crew are incidents that must have an adequate response from the state authorities in Serbia", said Zeljko Bodrozic, president of IJAS
IJAS has recorded 85 pressures, physical and verbal attacks on media professionals.
The Regional Platform supports IJAS in its efforts to protect journalists and freedom of speech and call on competent institutions to respond promptly and investigate these cases, identify the abusers and take legal action against them.
We remind that every attack on a journalist is an attack on the public interest, democracy and human rights.The Platform will inform all European institutions of this incident and request their intervention in the area of media freedom and safety of journalists in the Western Balkans region.
Skopje – Belgrade – Podgorica – Pristina – Sarajevo – Zagreb, 29.08.2019
BH Journalists Association
Trade Union of Media of Montenegro
Croatian Journalists' Association
Association of Journalists of Kosovo
Association of Journalists of Macedonia
Independent Journalists Association of Serbia