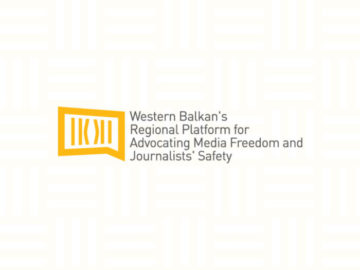 The Western Balkan's Regional Platform for Advocating Media Freedom and Journalists' Safety, which represents more than 8,000 members, condemns statements by the member of BiH Presidency Milorad Dodik regarding the work of journalists of Klix.ba portal from Sarajevo.
At a special session of the Republika Srpska National Assembly in Banja Luka held on February 26th, Dodik called Klix an "enemy media" for Republika Srpska, abusing the National Parliament podium to deal with this media and its journalists.
"This is not the first time that Mr. Dodik has publicly called out the media and journalists and criticized their work. In recent years, the BHJA has recorded at least 20 verbal attacks and threats by Milorad Dodik to journalists and media across BiH. On February 14th, during a press conference, Dodik verbally attacked BNTV journalist Vladimir Kovacevic, calling him and the media outlet he works for "traitors", which is a particularly worrying message given that journalist Kovacevic was targeted by a brutal physical attack two years ago and barely survived", said Borka Rudic, secretary general of the BH Journalists Association.
The labeling of journalists and the media as "traitors" and "enemies" is unacceptable when it comes to public officials, especially those who hold the highest political functions in the country, and represents open political pressure and threat to media freedoms, including the freedom to criticize politicians, their views and decision.
The Western Balkan's Regional Platform for Advocating Media Freedom and Journalists' Safety therefore calls on Mr. Milorad Dodik, as well as other BH politicians, to stop making inappropriate qualifications about journalists and the media and to reconcile their attitude towards them with the democratic values ​​they themselves represent, respecting the norms of decent communication and with full respect for the role of the media in a democratic society.
Skopje – Belgrade – Podgorica – Pristina – Sarajevo – Zagreb, 28. 02.2020
BH Journalists Association
Trade Union of Media of Montenegro
Croatian Journalists' Association
Association of Journalists of Kosovo
Association of Journalists of Macedonia
Independent Journalists Association of Serbia