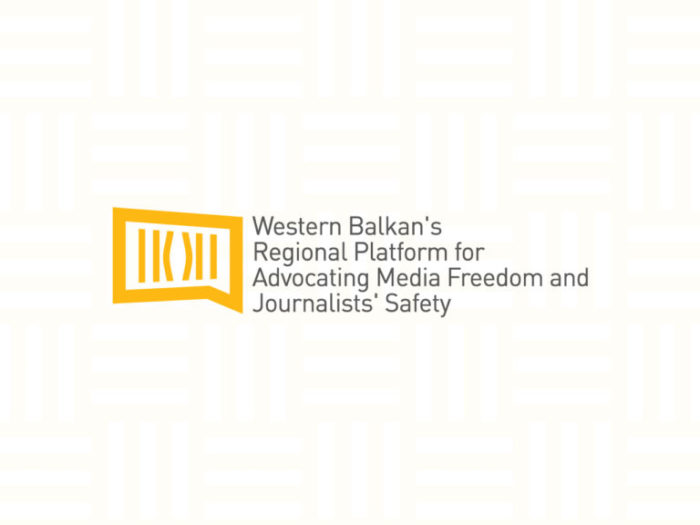 Regional Platform for advocating media freedom and journalists' safety which represents more than 8000 members, strongly condemns death threats addressed to the journalists Sanja Kljajic, Vanja Djuric and Milena Popovic from Novi Sad, and targeting Slobodan Georgiev, editor in chief of BIRN Serbia from Belgrade. Regional Platform calls the competent judicial authorities of the Republic of Serbia to process and adequately punish as soon as possible authors of dangerous hate speech and threats to our colleagues.
After being marked on the Facebook page of the web portal Istraga as "journalists who have embarrassed Serbia", journalists Kljajic, Djuric and Popovic became the target of verbal violence. This targeting of journalists was like a call to an orchestrated campaign of hate speech, worst insults, and death threats. The portal Istraga launched this campaign on the occasion of the documentary "Albanian women are our sisters", filmed in 2017 in cooperation with the Independent Journalists Association of Vojvodina, BIRN Kosovo and the German Forum ZFD. Even two years ago, authors of the documentary were subject of numerous death threats, and the broadcasting of the movie was hindered and disabled in cities throughout Serbia, and still no one has been punished because of it.
The day after BIRN published photos pointing the connection between Andrej Vucic, the brother of Serbian President and controversial businessman Zvonko Veselinovic, on social networks was started a targeting campaign. In footage of malevolently edited statements of colleague Slobodan Georgiev, which has been published on Twitter last night, he was marked as "foreign mercenary", "traitor" and associate of Albanian and Kosovo politicians. After video publishing, there were numerous comments that contained insults and threats.
Since the beginning of 2019, NUNS has recorded 47 pressures, physical and verbal attacks on media professionals.
According to Reporters without Borders Serbia has dropped 14 places on the 2019 World Press Freedom Index and now ranks 90th on the list of 180 countries. The authors of the report warned that Serbia is not safe for journalists and added: "The number of attacks on media is on the rise, including death threats, and inflammatory rhetoric targeting journalists is increasingly coming from the governing officials".
The Regional Platform supports IJAS in its efforts to protect journalists and freedom of speech and call on relevant authorities to investigate the case urgently, bring perpetrators to justice and sanction them adequately.
Additionally, we appeal to the highest officials of Serbia, Aleksandar Vucic, the President and Ana Brnabic, the Prime Minister to condemn these horrific threats and public labeling of journalists.
Every attack on a journalist is an attack on the public interest, democracy and human rights.
Skopje – Belgrade – Podgorica – Pristina – Sarajevo – Zagreb, 19.04.2019.
BH Journalists Association
Trade Union of Media of Montenegro
Croatian Journalists' Association
Association of Journalists of Kosovo
Association of Journalists of Macedonia
Independent Journalists Association of Serbia