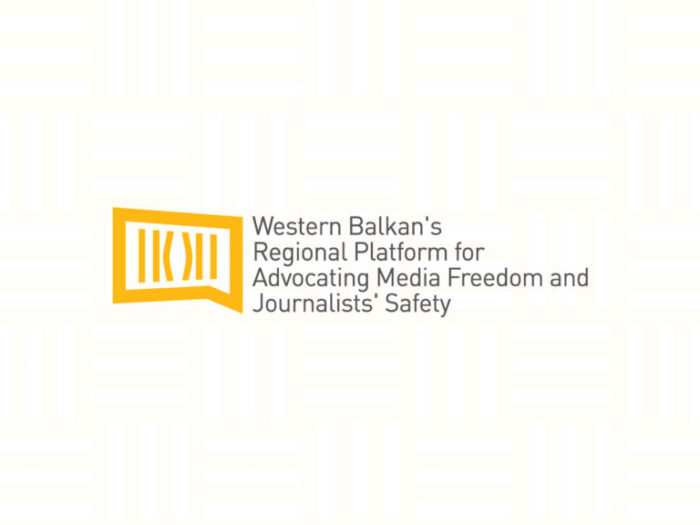 The Western Balkan's Regional Platform for Advocating Media Freedom and Journalists' Safety, which represents more than 8,000 members, strongly condemns the pressures exerted on the Investigative Reporting Laboratory (IRL) journalist Maja Jovanovska. Verbal pressures and harassment followed after IRL published an investigative story related to recent construction activities in the "Taftalidze" neighborhood in Skopje.
During the weekend, the owner of the construction company "Nastel" – Zoran Azmanov sent written messages to Jovanovska indicating how she "should" have been reporting on construction related issues. These harassing messages were sent to Jovanovska's phone number shortly after the publishing of the IRL story on the destruction of the Taftalidze neighborhood by construction companies.
In addition, she received a phone threat last week by someone playing her explosive sounds on the phone. The telephone number from which the audio message was sent is known to the Ministry of Interior, and its contents clearly indicate an attempt to intimidate and harass journalists from the IRL.
The President of the Association of Journalists of Macedonia, Mladen Chadikovski condemned these threats and urged the authorities to investigate this case. "We urge the Ministry of Interior and the Public Prosecutor's Office seriously to engage in clearing up these threats and finding out the identity of the person who threatened Jovanovska over the phone. Institutions can prevent future violence against journalists only through strict sanction of attacks and threats," Chadikovski said.
The Western Balkan's Regional Platform for Advocating Media Freedom and Journalists' Safety supports AJM in its efforts to protect journalists and freedom of speech and urges the public, the citizens and the business community that journalists should not be attacked for doing their job. Institutions and above all for the judiciary should process threats and attacks on journalists as quick as possible in order to protect the democracy in Western Balkans countries.
We remind that every attack on a journalist is an attack on the public interest, democracy and human rights. The Platform will inform all European institutions of this incident and request their intervention in the area of media freedom and safety of journalists in North Macedonia.
Skopje – Belgrade – Podgorica – Prishtina – Sarajevo – Zagreb, 31.12.2019.
BH Journalists Association
Trade Union of Media of Montenegro
Croatian Journalists' Association
Association of Journalists of Kosovo
Association of Journalists of Macedonia
Independent Journalists Association of Serbia