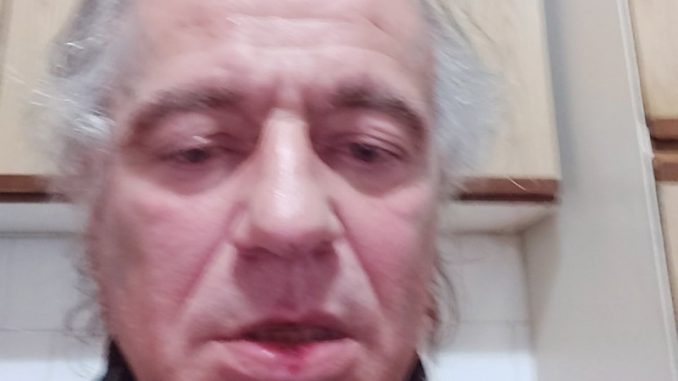 Journalist Sasa Mikic was beaten up after leaving the local polling station he wanted to report about in Kikinda, Serbia. He was attacked by three unidentified men who hit him all over his body, mostly his face, leaving him with cuts, bruises and hematomas.
On June 21 around 4 pm, Mikic came to the local polling station with an aim to report about the voting process in Kikinda. He presented himself and showed the journalist's ID asking for a statement from the president of the polling station. After two phone-calls the president of the polling station had, it became clear that there will be no statement. As Mikic was leaving the polling station, he got attacked by three men.
– Two men took hold of me and the third hit me in the face directly. I was covered in blood – said Mikic, adding that someone called the police which came to the scene and took statements from him. Mikic was called to the police station to identify three men – I don't know these people. Nothing like this ever happened to me. I've been a journalist for a long time and have nothing to hide.  I was on duty, reporting from elections, I had ID and all permissions.
Independent Journalists Association of Serbia (IJAS), member of the SafeJournalists Network condemned the attack and highlighted that the election day in Serbia saw various pressures and intimidation of journalists.
– Attack on Mikic on the election day is a drastic culmination of months of intimidation, threats and pressures Serbian journalists faced during the Covid-19 and pre-election campaign – said Zeljko Bodrozic, president of IJAS and added that Associations' records show an 80% increase in number of attacks and pressures against journalists compared to the same period in 2019 – Such drastic deterioration of media freedoms and levels of safety of journalists, especially in the election period, demonstrates that Serbia's dedication to values of democracy is only declarative. It will remain so until all cases of attacks on journalists are investigated and perpetrators adequately sanctioned.
SafeJournalists Network, representing more than 8,200 media professionals in the Western Balkans strongly condemns the physical assault on Sasa Mikic and joins IJAS in its request to the Serbian authority to act swiftly, bring perpetrators to court and sanction them. SafeJournalists Network calls upon the Serbian authorities, especially the Republic Public Prosecutor to act upon violations of journalists rights and safety and secure a safe environment for their work.
We will inform relevant national and international stakeholders about these cases.
Each attack on journalists is an attack on public interest, democracy and rights of all citizens.
Belgrade – Podgorica – Pristina – Sarajevo – Skopje – Zagreb, 24.06.2020
Association of Journalists of Kosovo
Association of Journalists of Macedonia
BH Journalists Association
Croatian Journalists' Association
Independent Journalists Association of Serbia
Trade Union of Media of Montenegro