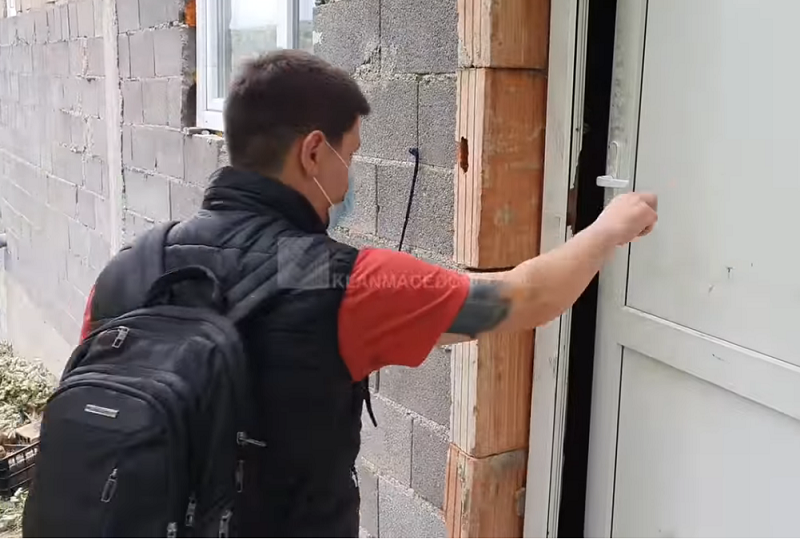 TV Klan journalist Furkan Saliu and cameraman Ibrahim Mamuti were threatened by a man who intercepted their car and requested them to delete the footage of migrants they had filmed hours earlier.
On May, 27 Saliu and Mamuti were near the village of Vaksince, filming a large group of migrants moving in the area. As they started their journey back to Skopje, their car was intercepted by another vehicle that cut their path. A man came out of it and threatened to make big problems for them if they published the footage. He asked them to delete the material. Journalists refused to do so and the man left. They reported the case to the police.
"In the meantime the man probably understood that he'd made a mistake and apologised to us", said Furkan Saliu. "I decided to accept the apology, however the threats were reported to the police and Association of Journalists of Macedonia. It is important the case is processed by institutions, not because of me but in order to stop further threats towards journalists", he added.
The president of AJM, Mladen Chadikovski condemned the threats against Saliu and Mamuti and asked from the Ministry of Interior to urgently identify the person who threatened the journalists and to file appropriate criminal charges to the Public Prosecutor's Office for this case. "They should not have any problem identifying the perpetrator because the police knows the licence plate of this person's car", he said. Chadikovski reminded the public once again that censorship is prohibited by the Constitution and threats against journalists are completely unacceptable and are considered as a criminal deed.
SafeJournalists network, representing more than 8,200 media professionals in the Western Balkans, joins its member AJM in requesting a quick and efficient investigation. We call upon the relevant authorities to act in accordance with best practice, use the evidence provided by journalists and make sure the perpetrator is adequately sanctioned. We also note that dangerous driving demonstrated by the suspect is a form of intimidation and should be treated as such when processing.
SafeJournalists.net will inform relevant national and international stakeholders about these cases.
Each attack on journalists is an attack on public interest, democracy and rights of all citizens.
Skopje – Belgrade – Podgorica – Pristina – Sarajevo – Zagreb, 29.05.2020
BH Journalists Association
Trade Union of Media of Montenegro
Croatian Journalists' Association
Association of Journalists of Kosovo
Association of Journalists of Macedonia
Independent Journalists Association of Serbia