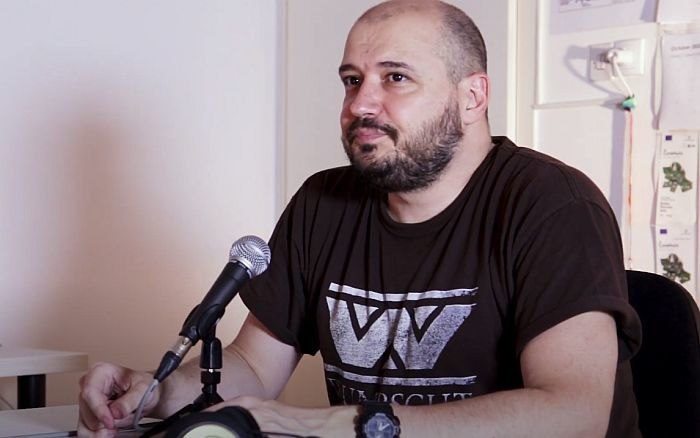 Two young men attacked Dasko Milinovic, journalist and radio host of the satirical show "Dasko & Mladja",  this morning at around 6:45 A.M., in Novi Sad, while he was going to work, and inflicted minor bodily injuries on him.
On April, 16th, according to the information known so far, the attackers initially sprayed him with tear gas, and most likely tried to hit him in the head with a rod, however, the journalist managed to cover his face with his hand, so he managed to mitigate the outcome of the attack. The attackers then fled. Milinovic has minor bodily injuries and is currently in the Emergency Center. The police and the prosecutor's office acted urgently regarding this event.
"It is an attack by fascist activists on an anti-fascist, in this case the attack was on anti-fascist journalist. They attacked me on the way to work, but luckily the attack was quite sloppy and dumb. I noticed that they were following me the other day, and when I saw them approaching me, I managed to take a defensive position", says Dasko for SJ Network.
He added that "we must continue to fight without fear for a society in which people will not be beaten up for political reasons".
Dasko was often the target of various attacks, but this is the first time he has experienced such a direct attack.
Zeljko Bodrozic, president of the Independent Journalists' Association of Serbia, said that "the attack on our colleague Dasko Milinovic shows how poisoned our society has become and how many see violence as the only solution to problems".
"The attack on him is also a red alarm that our profession is on the verge of a guillotine, which is beginning to depend on the mercy and disfavor of the executioners. Of course, it is commendable that the Prosecutor's Office and the police reacted quickly, but that is their job. Long-term repression, oppression and targeting of journalists have managed to dehumanize us, and now every hooligan feels violent towards our colleagues. I would like to be optimistic, so to say that something like this must not happen again, but I am afraid that I would lie to myself and others", he said.
The Independent Journalists' Association of Serbia strongly condemned this brutal attack. They said in a statement that they felt anxious for the safety of the journalist, since in this case it was an organized attack. They also said that this type of an attack is reminiscent of earlier brutal exploits from the dark past towards members of the journalistic profession.
In this year alone, IJAS has recorded 35 cases in its Database of attacks and pressures, including this one, while in the previous year there were 189 cases, i.e. 32 cases of physical attacks.
SafeJournalists Network, representing more than 8,200 media professionals in the Western Balkans, joins its member IJAS in condemnation of the brutal attack on Dasko and reminds that Serbia has a long history of unsolved cases of attacks on journalists. It is worrying that the Serbian society is sinking deeper and deeper into divisions that lead to such consequences. Although the police and the prosecution reacted quickly, which is commendable, SafeJournalist Network expects the perpetrators of this crime to be found, as well as their possible instructing party.
SafeJournalists Network will inform relevant national and international stakeholders about these cases.
Each attack on journalists is an attack on public interest, democracy and rights of all citizens.
Skopje – Belgrade – Podgorica – Pristina – Sarajevo – Zagreb, 16.04.2021
Association of Journalists of Kosovo
Association of Journalists of Macedonia
BH Journalists Association
Croatian Journalists' Association
Independent Journalists Association of Serbia
Trade Union of Media of Montenegro