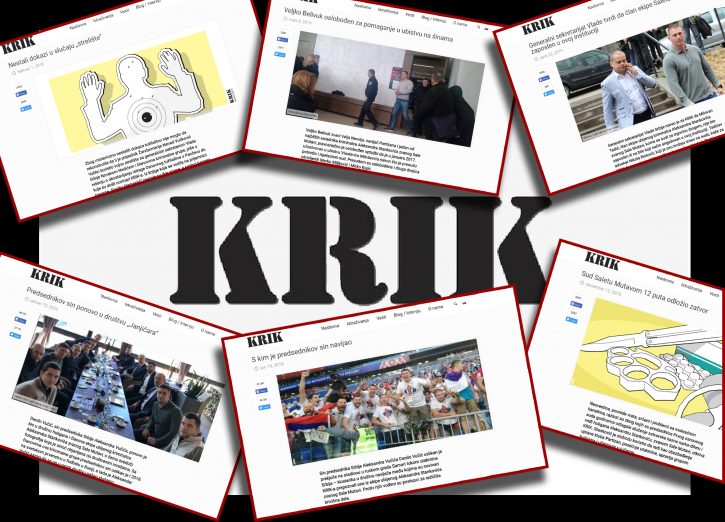 BELGRADE, 22.03.2021. – Crime and Corruption Reporting Network (KRIK), a group of investigative journalists who write about about the crime and corruption, has been under attack from the tabloids and the authorities for days.
In a smear campaign that has been going on for more than 10 days, government officials and pro-government tabloids falsely accused KRIK of collaborating with the group of Veljko Belivuk, a recently arrested gangster. KRIK had previously written about him and his connections with state structures. At the parliament, Aleksandar Martinovic from the Serbian Progressive Party accused KRIK of not paying taxes and of being a criminal association.
Due to all this, IJAS, alongside with four associations (Independent Journalists' Association of Vojvodina, Association of Media, Association of Online Media, Local Press) withdrew from the Working Group for Safety and Protection of Journalists of the Government of Serbia, which was established at the end of last year because of ignoring serious attacks and endangering the safety of journalists and media in Serbia. Four journalist associations (Journalists' Association of Serbia, Serbian Journalists' Union, Radio Advertising Bureau, Association of Independent Electronic Media) remained in the Working group.
IJAS, together with other four journalists' associations, held a press conference in front of the parliament on the occasion of this whole case.
"They classify us, without any evidence, as a part of a criminal group, and the reason for that is that we have been writing for years about the connection between Belivuk's group and the top authorities. Now, when the government wants to arrest that group and wants to erase the past with that group, they are trying to defend themselves by accusing us. Since its establishment, KRIK has constantly been under attack by the pro-government media ", said the editor-in-chief of KRIK, Stevan Dojcinovic, at the press conference in front of the parliament.
This is not the first time that KRIK had been targeted, but it is the most dangerous one so far. KRIK also has three female journalists whose homes were broken into and nothing was taken from them. The police have not found anyone suspected of that to this day. Dojcinovic also revealed earlier in "Agelast", a podcast that someone tried to tap the rooms in which they work. Year after year, the tabloid machinery close to the ruling regime of Aleksandar Vucic draws a target at the editor-in-chief Stevan Dojcinovic.
Serbia has a turbulent past of repression against journalists. Past unpleasant experience shows that this path of dehumanization of journalists leads to the most terrible crimes. We are afraid that this is just an introduction to a much more serious series of attacks and abuses of institutions in order to discredit KRIK.
SafeJournalists Network, representing more than 8,200 media professionals in the Western Balkans joins its member IJAS in condemning insulting and abusive speech and call on public persons and politicians to behave properly in their public appearance. We strongly condemn both the non-solidarity and the attacks coming from their colleagues. Although we see that international organizations, embassies and the EU have condemned this dishonourable campaign, we will continue to follow this case to the end, and will not let this stain thrown on their team to be forgotten.
We will inform all relevant national and international stakeholders about this new case. Each attack on journalists is an attack on public interest, democracy and rights of all citizens.
Belgrade – Podgorica – Pristina – Sarajevo – Skopje – Zagreb, 22.03.2021.
Association of Journalists of Kosovo
Association of Journalists of Macedonia
BH Journalists Association
Croatian Journalists' Association
Independent Journalists Association of Serbia
Trade Union of Media of Montenegro