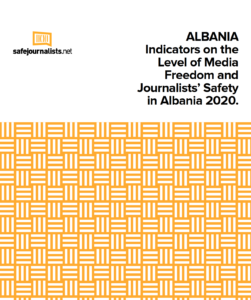 The Constitution of Albania guarantees the freedom of expression, media, and information, but such provisions are not thoroughly implemented in practice, and signs of deterioration of freedom of expression, freedom of information, and freedom of press can be witnessed in the larger ecosystem. The Government of Albania has attempted to introduce changes in the legal provisions that are deemed to be violating the freedom of expression and freedom of media. The Audiovisual Media Authority's performance as regulatory authority has been marked by political contention regarding its independence and work practices.
In Albania, and contrary to international best practices, defamation is a criminal contravention. 20 lawsuits against journalists, mainly for defamation, are recorded in 2020. In several cases the independence of journalists' work in Albania has been threatened, through increased number of lawsuits against them, particularly investigative journalists. The Albanian Alliance for Ethical Media established self-regulation mechanisms in 2020. Generally, the freedom of journalists' work and association are guaranteed. Limited transparency, whether intentional or ex officio, of state institutions also hinders the work of journalists.
In terms of economic position of journalists, major challenges persisted in 2020, particularly regarding the employment, working conditions, safety, and professional development. Editorial independence is affected by the interrelations among the media, politics, and businesses. Self-censorship is still present. Working conditions of women journalists are in most cases more challenging than men, particularly in term of salaries, intimidation, leading positions in the newsroom, and harassment. Journalists working for online media portals and local media outside of Tirana face more challenges than their counterparts in mainstream media in Tirana. Field journalists report that they feel unprotected from physical threats. Investigative journalists report fearing judicial lawsuits coming from parties affected by their work. Young journalists face additional challenges including lack of solidarity by their experienced peers.
Concerns over the safety of journalists increased in 2020 with 17 alerts including threats against the life and physical safety of journalists, non-physical threats and harassments, actual attacks, and threats and attacks on media organizations. There are no specific provisions for the safety of journalists, and state institutions have limited capacities, resources, and preparedness to guarantee journalists' safety. Institutions in Albania do not systematically publish data about attacks on journalists and impunity. Although attacks on the safety of journalists are generally condemned by state officials, proper investigation into the cases are lacking. The development of media in Albania in the past three decades has not been linear; rather, it echoes a dynamic, rich, and diverse media landscape with the main feature of the dominance of clientelist media, marked by a subtle interdependence and interrelation among media, politics, and business.
Read the full report in English
Read the full report in Albanian