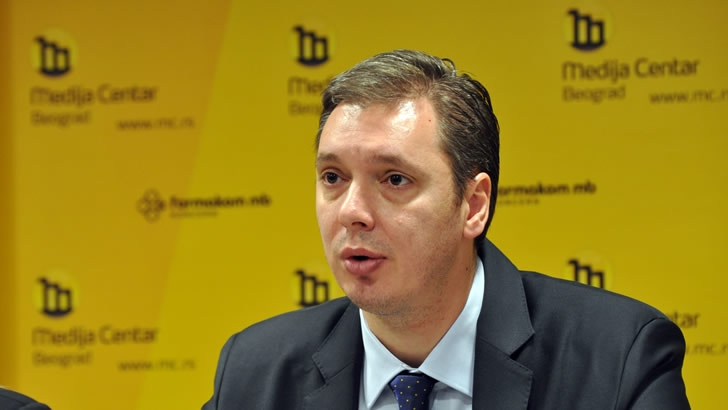 BELGRADE, 22.01.2018. – President Aleksandar Vucic received on Friday a European Federation of Journalists (EFJ) President Mogens Blicher Bjerregard, his cabinet announced.
A statement said that they spoke about "the situation in the media, ways to improve it, and freedom of expression and media" and that Vucic stressed he was "aware of the necessity of improving the atmosphere and the conditions in which the media operate, but also that media codes of ethics need to be respected."
He "expressed readiness to work with other state institutions to achieve this."
Vucic "stressed that in Serbia, everyone has the right to speak or write what they want, but at the same time everyone has the right to respond to that."
"I will not deprive anyone, myself included, of the right to reply," the president said, and, according to the statement, "responded in concrete terms to all the remarks made by the representatives of the EFJ, and emphasized that he would do everything to promote freedom of expression and media."
Bjerregard "thanked President Vucic for his interest in the topics that this federation has dealt with during the (fact-finding) mission, and stressed that it was very important for the president to support improving the media situation, as well as sending a signal to all state institutions to actively participate in this."
According to the statement, he further "stressed that, at the meetings during the mission, they observed that pressure on the media was growing, which is why improvement was necessary, stressing that it was most important for Serbia to be resolute, to respect the values of freedom of media and expression, and to allow journalists to work without fear."
During the meeting, Bjerregard "pointed out that the president needed to show how important it was for the authorities to resolve all cases of murders and violence against media."
"This will reduce the pressure and violence against the media, because unresolved cases are a call to continue with violence," he is quoted as saying, and adding that it was necessary to send a signal to ministers and parliamentarians to participate in debates hosted by all television stations.
The delegation led by Bjerregard included General Secretary of SEEMO Oliver Vujovic, Deputy Director of IPI Scott Griffen, President of the Association of Journalists of Serbia (UNS) Vladimir Radomirovic, and President of Trade Union of Journalists of Serbia Dragana Cabarkapa.