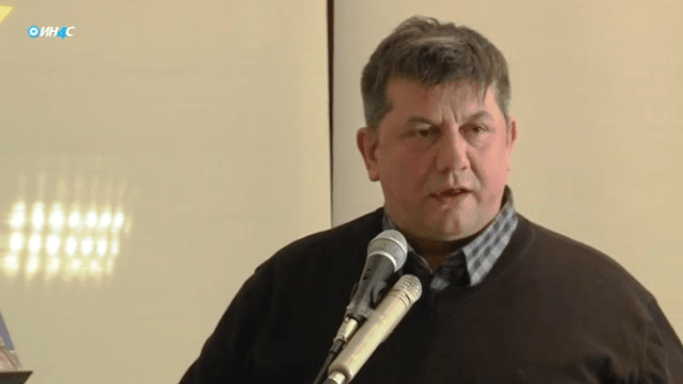 PODGORICA, 26.10. 2017. – Trial against Ministry of Interior (MoI) on the lawsuit of Gojko Raičević, journalist and editor of portal IN4S was continued today in the Basic Court Podgorica with examination of recordings from protests of the opposition alliance Democratic Front (DF). 
Raičević in his lawsuit against the Ministry of Interior requested compensation of 75,000 euros for non-pecuniary damage caused by torture of police officers on three occasions. He filed a lawsuit because he was brutally beaten several times during the protests of the opposition alliance Democratic Front in Podgorica, in the period of October 17 to 24, 2015.
The recordings showed that Raičević was recording "breaking" of protests, removal of tents in which DF supporters had been previously located, and that two police officers tried to displace him. This was happening on the corner of blvd Stanko Dragojević and Sveti Petar Cetinjski.
"It is clear that I am the only "object" of the police interest. There is a curious man next to me, girls passing by, but none of them is interesting to the police," said Raičević to Dijana Rovčanin, a judge.
Another video, made on October 24, 2015 at Beko department store in Sloboda Street, showed that masked policeman approached Raičević and hit him, while colleague Goran Ćetković was shouting "journalists, journalists" trying to explain to police officers whom they were attacking. He was shouting as well "Everyone is beating us". Before that incident, Raičević claims that in the same street, at location closer to Hilton Hotel, he was hit in the back with a baton.
Since a person's face is not visible on the footage, and the attacker can only be seen at the end of footage, the state attorney said that "it is disputable that actually the accused (i.e. police officer) is at the video".
At the hearing, medical documentation was reviewed, as well as the Ombudsman opinion, the letter from the Council for Civilian Control of Police Work, Raičević's request for court settlement, and several requests for admission to the Minister of Internal Affairs and for the assessment of Račević's safety and the safety of his family. Requests for admission and safety assessment have never been answered.
The next hearing is scheduled for November 20, when a medical expert will be invited again, at Raičević's request, in order to supplement the report in the part referring to the fear he suffered and has still been suffering.