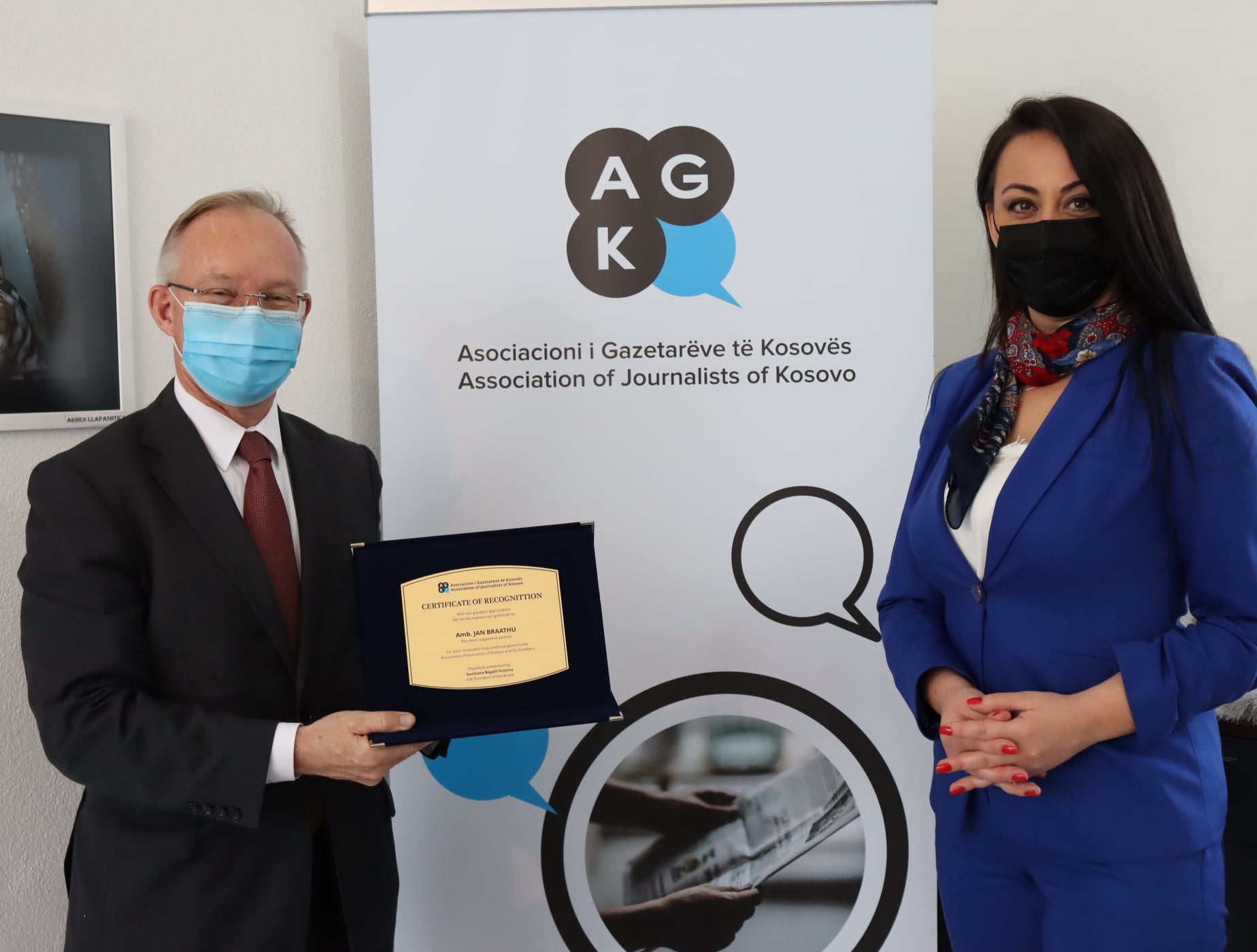 PRISTINA, 25.12.2020 – The President of the Board of the Association of Journalists of Kosovo (AJK), Gentiana Begolli Pustina, received in a farewell meeting the Head of the OSCE Mission in Kosovo, Ambassador Jan Braathu.
At this meeting it was discussed about the unstinting cooperation and support that the OMiK has provided to AJK in carrying out various activities over the years.
Ambassador Braathu, among other things, stressed the importance of continuing mutual cooperation.
"The OSCE Mission in Kosovo highly values the cooperation with the Association of Journalists of Kosovo and we will continue to strengthen the partnership between our organizations and to support journalists, because without their work and information, there can be no democratic government. Also, together we must continue to speak publicly about the attacks on journalists because they obviously affect their work."
Meanwhile, the Board President Begolli Pustina expressed her gratitude for the unstinting support of the OSCE in Kosovo headed by the Ambassador, Jan Braathu. According to her, the functioning of AJK, without the support of this mechanism would be very difficult not to say impossible.
"I have emphasized it in several conferences and I take this opportunity to say in this farewell meeting that you ambassador, have rightly been considered a true friend of journalists and the AJK itself. We hope that the new head of OMiK will also provide the support you have provided to the AJK, so that together we can continue to advocate for the rights of journalists."
Begolli Pustina also thanked the Head of the Media Section in the OSCE Democratization Department, Mr. Dane Koruga, who in no case has hesitated to respond to the requests of AJK.
"You have been the closest partner of AJK, for which we will always be thankful," said Begolli Pustina.
The Association of Journalists of Kosovo thanked Ambassador Jan Braathu on the occasion of the end of his term as the Head of the OMiK, for the irreplaceable assistance and trust given to the AJK and its members.