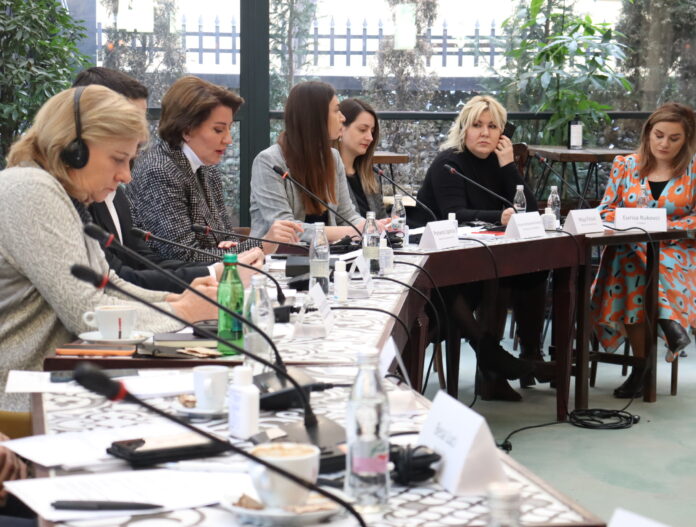 The Association of Journalists of Kosovo – AJK, with the support of the National Democratic Institute – NDI and USAID in Kosovo, within the Journalists Information Integrity Academy, organized the conference Combating Gender-Based Disinformation.
Xhemajl Rexha – Chairman of the AJK Board, raised the need for the appointment of women in decision-making positions in the media in order to fight the misogynistic language more effectively.
"The media are often the source of the spread of misogynistic language, and we as the AJK are constantly engaged in supporting them to denounce this language. In this context, the appointment of more women in managerial and decision-making positions in the media would be very helpful in order for the joint efforts against misogynistic language to be more effective."
The Ambassador Nancy Soderberg, NDI's Senior Resident Director for Kosovo, said that misogyny is one of the main challenges of the information environment in Kosovo.
"The media play an important role in combating this phenomenon through gender-sensitive reporting, identifying sexist and offensive language, and providing fair and equal opportunities and representation for all."
Atifete Jahjaga – President of the Republic of Kosovo during the period 2011 – 2016, stated that the gender-based disinformation is an old problem in our society that has been persistent for many years, and that it should be addressed very seriously by journalists and the media.
"During my term in Office and after, there were more reports and fake news regarding my privacy, the way I looked, my marriage life, and also edited photos of myself, than there were reports about the work I did. I have witnessed this situation for over a decade. What makes this situation even worse is the fact that we are seeing that the same trend exists towards the actual President of the State and other women in politics. The media in Kosovo, and not only them, are unfortunately targeting women who are active in politics and business, thus contributing to stereotypes and gender-based discrimination because, according to them, it is not important what that woman did but how she looks."
The Panel consisting of journalists, researchers, and representatives of organizations, together with the participating journalists of the Journalists Information Integrity Academy, discussed current media problems related to online misogyny and gender disinformation, as well as for the best practices to mitigate these challenges.
The following are some of the recommendations which derived from the conference: Incluosion other identity indicators in addition to men and women, involving more women in TV debates, undertaking actions based on the current context in Kosovo, to improve the representation and portrayal of women in the media, and the development of methods to proactively identify and minimize sexist language in the media.
Full recommendations will soon be published on the Organization's social platforms.