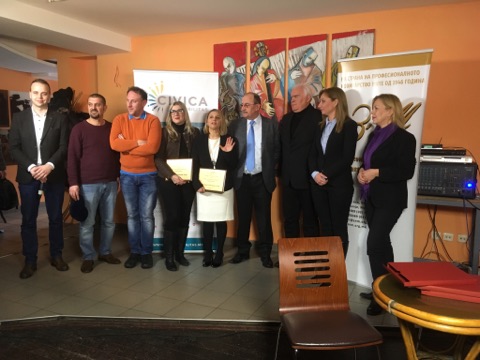 SKOPJE, 01.03.2018 – Yesterday, AJM celebrated the 72nd anniversary. On this occasion, three journalists received award for their merit. Recipients of the Investigative journalist award were Menche Atanasova Tochi and Snezhana Lupevska Sozen, while the journalist Ljubomir Gajdov won the lifetime achievement award.
The president of AJM Naser Selmani, congratulated the winners and noted that they are an example of how a journalist in a free and democratic country should look like.
Selmani said that journalists in Macedonia are still facing serious problems, since impunity of violence against journalists persists and the media legislation needs changing.
"Despite the declarative commitment of the new government to fight against the practice of impunity for violence against journalists, none of the attackers has been brought to justice," Selmani said.
He noted that in addition to the impunity problem and media legislation, journalists face new forms of pressures, such as the attempt to tie the hands of journalists by offering them security certificates and the practice of large companies to use advertising as a tool for putting pressure on the media.
According to him, the fight of journalists for freedom of speech will continue, because life without freedom is slavery. "United we are stronger and more resilient until the day freedom of speech in Macedonia will not be just words on paper, instead it will be part of our life," said the president of AJM.
The award winners thanked the AJM for the honor, and said that they hope to be succeeded next year by young fellow journalists.