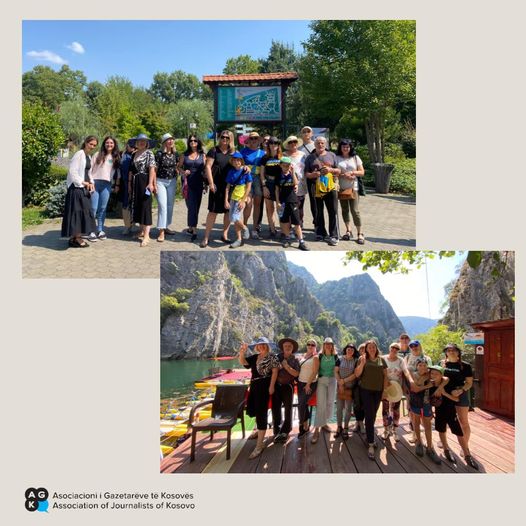 The Association of Journalists of Kosovo's Journalists in Residence – Kosovo team, together with the Ukrainian journalists sheltered in Kosovo, visited North Macedonia.
Lydmila Makei, Oksana Chikanchy, Viktoriia Kaidash, Liudmyla Mekh, Serhii Shevchenko, Olga Lisnycha, Olha Praidko, Liudmyla Lukianchenko, Tetiana Kraselnykova, Liliia Vorobiova, Volodymyr Martyno, Nazar Chaban and Yaroslav Tkachenko, visited the Matka Canyon, the city of Skopje and the zoo.
Ukrainian journalists have been sheltered in Kosovo as part of the Journalists in Residence – Kosovo program, which was initiated by the European Center for Press and Media Freedom ECPMF, and is being implemented by AJK with financial support from the Government of the Republic of Kosovo, the OSCE Mission in Kosovo, and the Hannah Arendt initiative.
The "Journalists in Residence – Kosovo" initiative has benefited 18 Ukrainian journalists, six of whom have completed the six-month residency program in Kosovo.