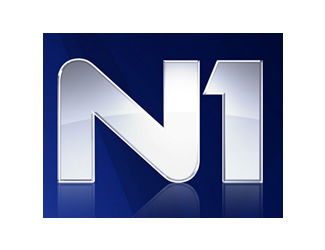 The Western Balkan's Regional Platform for Advocating Media Freedom and Journalists' Safety, which represents more than 8000 members, strongly condemns death threats colleagues from N1 received following Milenko Jovanov, vice-president of the ruling Serbian Progressive Party, suggested that N1 was not objective and had recognised Kosovo's independence.
On 4 February N1TV announced its Belgrade office received a series of insults on social networks that branded its journalists as "traitors" and "anti-Serbs". A letter containing serious threats to their lives, those of their families and a message that N1 building will be blown up was also received. It stated: "Do you have families? You're killing our children and grandchildren, and are unaware that if the destruction happens, your building will be the first to be blown up, and you may lose your dearest. That's why we, the veterans, warn you not to play with anyone's destiny because your fate is in our hands." The letter was signed by the "Belgrade Veterans of 1999 war", but the president of this association denied its involvement and called for the police investigation.
The incident was reported to the police.
"By suggesting that N1 recognised Kosovo's independence, the representatives of the state directly incite and encourage online comments that brand this TV and its journalists traitors," said Zeljko Bodrozic, IJAs vice-president said and added. "Such public statements by the state officials encourage threats and attacks on journalists. IJAS has been pointing to this issue for some time and urged officials to lead by example and refrain from it."
In the last three years IJAS recorded more than 80 pressures. Those include public labelling of journalists as "traitors", "foreign mercenaries" and similar by the state officials.
The Regional Platform supports IJAS in its efforts to protect journalists and freedom of speech and call on relevant authorities to investigate the case urgently, bring perpetrators to justice and sanction them adequately.
Additionally, we appeal to the highest officials of Serbia, Aleksandar Vucic, the President and Ana Brnabic, the Prime Minister to condemn these horrific threats and influence state officials to refrain from public labelling of journalists.
Every attack on journalists is an attack on the public interest, democracy, and rights of all citizens.
Skopje – Belgrade – Podgorica – Pristina – Sarajevo – Zagreb, 05.02.2019.
BH Journalists Association
Trade Union of Media of Montenegro
Croatian Journalists' Association
Association of Journalists of Kosovo
Association of Journalists of Macedonia
Independent Journalists Association of Serbia