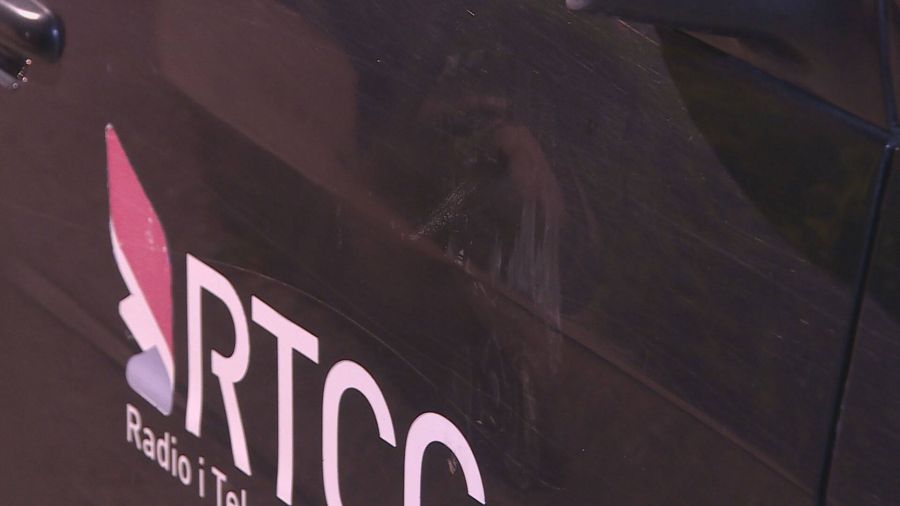 During the election results celebration in Podgorica, a vehicle belonging to RTCG was hit by a stone and damaged. Luckily, no one was hurt.
On Sunday, August 31st, a large crowd gathered in Podgorica to show support to opposition parties after receiving preliminary results of the Montenegro parliamentary elections. The vehicle, clearly marked with the RTCG logo, was heading back to headquarters when it was stoned. Based on the RTCG report, the driver who was alone in the car was not harmed.   
Marijana Camovic Velickovic, the president of the Trade Union of Media in Montenegro (TUMM), a SafeJournalists Network member said TUMM requested a full investigation in the case.
– The stoning of a PBS vehicle sends a chilling message to all media professionals. They may have become accustomed to being attacked during public gatherings and the post-elections tensions were high. But being attacked is not a part of their job description and TUMM reminds all media professionals about it, as well as the citizens and the police. This incident must be given full attention and the state must demonstrate it will not tolerate such attacks – said Marijana Camovic Velickovic and added that luckily no one was harmed.
SafeJournalists Network, representing more than 8,200 media professionals in the Western Balkans, joins its member TUMM in condemning attack on the RTVG property and requests addressed to relevant authorities regarding investigation of the incident. We highlight that one can disagree with the editorial policy of the media, but that does not give one the right to change that policy by force.  By acting swiftly and punishing the perpetrator, Montenegrin authorities will demonstrate its dedication to freedom of expression and safety of journalists.
SafeJournalists Network will inform relevant national and international stakeholders about these cases.
Each attack on journalists is an attack on public interest, democracy and rights of all citizens.
Belgrade – Podgorica – Pristina – Sarajevo – Skopje – Zagreb, 02.09.2020
Association of Journalists of Kosovo
Association of Journalists of Macedonia
BH Journalists Association
Croatian Journalists' Association
Independent Journalists Association of Serbia
Trade Union of Media of Montenegro